Quality Results for Reading School Gibbs Cup Winners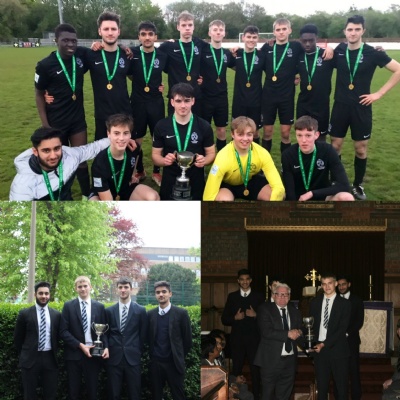 The team had enjoyed a very successful season, delivering in both quality and results, losing only three of twenty matches and reaching the latter stages of County and National Cup Competitions. Their commitment was rewarded with a hard fought Cup victory, winning the prestigious Gibbs Cup for the first time since 2006.
Samjoth S (13CF) coolly slotted home a penalty after 15 minutes. Worryingly, the lively left-winger for the Windsor was proving as much as a handful as a revolutionary storming the Winter Palace in 1917. His trickery led to an equaliser after 20 minutes. However, Curtis P (12KY) scored a Messi-esque free kick from 25 yards to restore the lead. Windsor hit back to make it 2-2 but the first half ended well for Reading School, who were wearing kit sponsored by the Alzheimer's' Society. The importance of sporting memories is a key aspect of our intergenerational partnership with the Alzheimer's Society and this was certainly the case with a well taken goal by versatile left-back Fred N (13JM) on the stroke of half time.
Following an inspiration team talk by Mr Allen and some tactical adjustments to counter the 4-3-3 formation of the opposition, the Reading School team came out strongly in the second half. Mesmerising skill in the opposition box led to the fourth goal by the mercurial Devante F (12DWH).
Nevertheless, the strong, committed opposition, would not give in and following a free header at a corner, the deficit was reduced to one. Injuries to Captain Joe H (13MK) and star striker, Samjoth S (13CF), meant that the depth of the squad was tested. But one of the key strengths of the team all season was strength in depth. They proved in the final that attitude allied to ability and a culture of teamwork results in success.
For some of the players, this was their last football match representing the school. We would like to thank all parents who have supported their sons and Reading School this season, and in previous seasons.
#ReadingSchoolFamily #Football #Victory #GibbsCup #ThatchamTownFC #Excellence #Commitment #BuildingBetterMen