Good Luck to the Class of 2019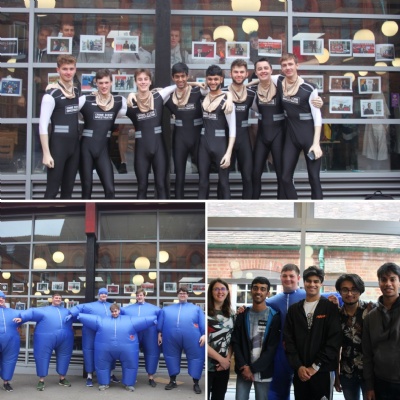 Friday 17th May was the last timetabled day in school for the current Year 13 students of Reading School.
Year 13 students celebrated their time at Reading School with some great fancy dress costumes ranging from inflatable suits to crime scene investigators!
After entering the gates of Reading School as students one last time, Year 13 students ended the day by enjoying a leaver's breakfast with their tutors, followed by a final chapel service which included rousing renditions of 'I vow to thee my country' and 'Jerusalem.' This auspicious occasion saw some emotional farewells to peers and teachers which forms the fond memories at Reading School.
In his final address, Headmaster, Mr Robson offered thanks to the Class of 2019 for their integral contribution to school life which has shaped Reading School. They will always be a part of Reading School, whether this has been across seven years or just two.
We are proud of this cohort's development, character and progress and we would like to wish all our students good luck in their A Level examinations as well as every success and happiness for the future. We also thank all our staff and parents for their support during the examination period and throughout your son's time at Reading School.
#ReadingSchoolFamily #RSKeepInTouch #ALevels #Exams #Year13 #Classof2019 #RSAlumni #OldRedingensians