Reading School student wins Duke of Edinburgh's Gold Award & Queen's Scout Award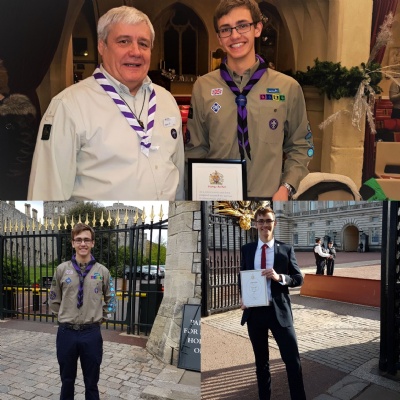 The Duke of Edinburgh Award (DofE) is widely recognised as the world's leading youth achievement award. Each section of a DofE programme offers opportunities for young people to develop their confidence, improve their self-esteem and feel fitter and healthier. These outstanding achievements are highly regarded when applying for work placements, University applications and employment opportunities.
George started his DofE by gaining his Bronze Award at school. There are currently 80 Year 9 people on the same pathway. Earlier in the year, George gained his Queen's Scout Award and took part in the National Scout Service and Parade at Windsor Castle in April, in the presence of HRH Prince Edward Duke of Kent and Bear Grylls. One of George's scouting community projects in Uganda was part funded by the Old Redingensians Enterprise Award.
George A (13CF) commented on his journey:
"My journey started with my Bronze Award at Reading School in 2015, followed by my Silver Award with Scouts in 2016 which I finished a year later. I was determined to complete my Gold Award and did this through Adventure Dolphin in Pangbourne. Each award involved a volunteering, skill, physical and expedition section plus an additional residential project for Gold.

I have many memories of the expeditions, which although challenging were great fun. I did an Open Expedition for my Gold with people I had never met before. During our practice in the Cambrian Mountains we experienced extreme cold and heavy snow – the worst that the leaders had seen, we couldn't find the paths so it was really hard to navigate. It was worth it for the breath-taking views, new friendships and the huge sense of achievement when the whole team finished successfully.

I spent a week at Gilwell Park Scout Activity Centre getting it ready for the new season with a team of international volunteers. This involved a lot of hard work: building paths, clearing a lakeside, chopping wood and cleaning. I have had an absolutely brilliant time over the last 4 years volunteering as a leader of a Cub Pack and have planned and run many evenings including trips out. I have also gained new skills in photography and computing plus I learnt to drive and my tennis has also improved although I am not quite ready for Wimbledon yet!

My Gold DofE Award also enabled me to gain my Queen's Scout Award and I paraded, as one of five Scouts from Berkshire, at the National Scout Service at Windsor Castle in April, in the presence of Prince Edward, Duke of Kent and Bear Grylls. In addition to the DofE Award I had to do six extra challenges one of these being a 4 week international project in Uganda building and renovating classrooms at two schools which was part funded by the Old Redingensians Association Enterprise Award. Also in year 12 I raised money to take part in a Reading School community project in South Africa & Lesotho which involved working on a game reserve and at a school. It was great to be able to make a difference and meet the people I was actually helping, rather than just donating money to a charity.

All of these activities contributed towards both my Queen's Scout and Duke of Edinburgh Awards which have made me a more confident and outgoing person, enabling me to work well in a team or as a leader. These life skills have helped me to get a place at university, are key qualities desired by employers and will be with me forever."
#BulidingGoodMen #ReadingSchoolFamily #RSEnrichment #DukeofEdinburgh #DoFE #OldRedigensians #PrincessBeatrice #BuckinghamPalace #BearGrylls #WindsorCastle