Inspire Lecture – A Career in Journalism- Tom Whipple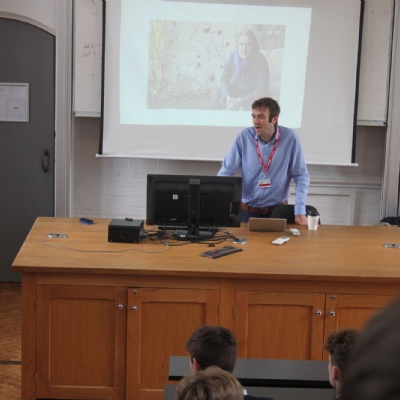 Tom had already volunteered his time at Reading School, when he returned in January as a delegate for the Careers Convention. This inspire lecture saw Tom share his experiences and unique situations he has found himself in during his career in journalism.
Oliver (13KY & Careers Prefect) commented:
"On the 8th May, we were graced with the return of Tom Whipple, a face recognised by students at the Careers Convention and Mr Sharma (his old physics teacher) alike. Mr Whipple is the Science Editor at The Times and came to speak about careers in journalism and the path (or lack thereof) students are expected to take into. He talked with an unsettling nonchalance about the Tamil Tigers kidnapping him, as well as recounting the unforgettable story of the Nigerian Ambassador and the Brazilian 'Love Hotel'.

Whilst regaling us with many stories from his travels, Mr Whipple's overall message remained clear; journalism may not be the most lucrative or secure career in the world, but the journeys it takes you upon and the opportunities it offers are arguably much more valuable. The talk was well attended by a range of ages, and Miss Ayres even suggested it might be the best inspire lecture she's been to."
Special thank you to Ollie K (Year 13 Careers Prefect) and Mrs L Ayres (Assistant Headmaster) and the Society Office for their assistance in arranging this Inspire Lecture.
If you would like to deliver a workshop or Inspire Lecture in a specific industry or share your career pathway beyond Reading School, please do get in contact with Jas or Piatrice in the Society Office at events@reading-school.co.uk. Particular interest is in medicine, scientific research, finance industries, computer science, engineering, languages and the creative arts.
#ReadingSchoolFamily #RSInspireLecture #RSEnrichment #Journalism #BuildingGoodMen #Inspiration #TheTimes #OldRedingensians #ReadingSchoolAlumni