Inspire Lecture –What is Clinical Research? - Dr Oliver Flossmann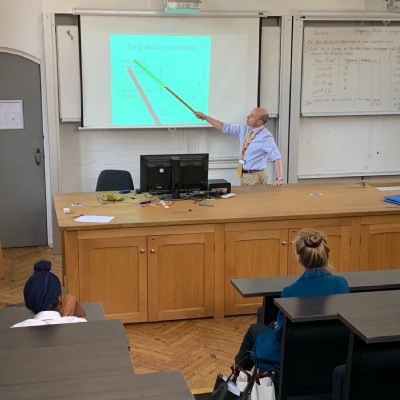 Year on year Reading School has seen a rise in pupils applying to study medicine. This academic year, we have seen an impressive 31 offers from Russell Group Universities to read Biology-related degrees' including 27 for Medicine, Veterinary Medicine, Natural Sciences, Biochemistry and Biological Sciences that our Year 13 students received. This is indicative of the progress through the school as well as the commitment from our parent and alumni community who continually share their valuable experiences with our students.
Siddharth S (12FS) commented:
"Dr Flossmann gave a really insightful overview of what clinical research is and why it is done. It was really useful to learn about how trials were designed and why they are done the way they are. I found the section on the types of clinical studies and the problems they may have (e.g. types of bias) really interesting as it showed the importance of considering limitations when designing a trial and it was intriguing to see what evidence based medicine is really about.

He finally talked about a trial he was involved in and it was useful to see the benefits research can bring, as well as showing how doctors can be practising clinicians and be involved in research at the same time. Overall, the Inspire Lecture was very interesting and it was great to see that students of all years enjoyed it."

"The lecture was extremely fascinating and it is has shown me a different side of medicine that I now want to consider being involved in, in the future."
A special thank you to Siddharth S (12FS) and Mrs J Pickering (Teacher of Biology) and the Careers Office and Society Office for their assistance in arranging this Inspire Lecture.
If you would like to deliver a workshop or Inspire Lecture in a specific industry or share your career pathway beyond Reading School, please do get in contact with Jas or Piatrice in the Society Office at events@reading-school.co.uk
Particular interest is in medicine, scientific research, finance industries, computer science, engineering, languages and the creative arts.
#ReadingSchoolFamily #RSInspireLecture #RSEnrichment #ClinicalResearch #BuildingGoodMen #Inspiration #RBH #Community #careers #medicine