Another Successful Open Day at Reading School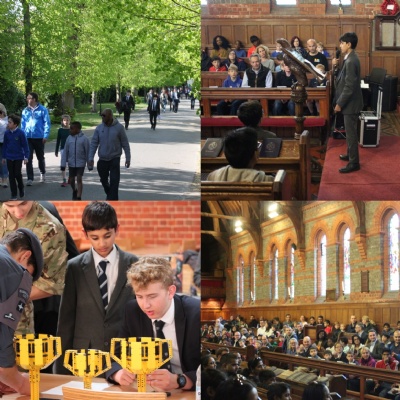 Reading School was pleased to welcome over 1600 prospective parents and pupils to the Open Day on Thursday 25th April. A team of sixth form students led visitors around the school to discover the opportunities on offer.
The school was packed with activities in the science labs, drama studio and sports on the front field, just to name a few. Visitors got to visit different departments, viewing our newest facilities and meeting some of our enthusiastic teachers. Student representatives were also on hand to showcase their work and speak to visitors about their experiences learning each subject. Members of a wide range of co-curricular activities also used this opportunity to proudly showcase their clubs in the Refectory. In addition, prospective students and their parents could get first-hand information on boarding at the school.
Several admissions talks took place in Big School as well as the Headmaster's talks which took place in the Chapel including speeches by the new School Captain, Hugo R (12CF) and Y7 pupils Milan G (7L), Armaan C (7W), all advocating for the standard of education at Reading School.
We hope that all visitors experienced a welcoming atmosphere and gained a flavour of what makes Reading School such a vibrant community to be a part of.
Thank you to everyone who took the time to come and view the school. A special thanks to all the staff at Reading School for their preparation and ongoing hard work and commitment to the school and its students.
#ReadingSchoolFamily #OpenDay2019 #Teaching #VisitUs #Berkshire #GrammarSchool #SecondaryEducation