A Level English Literature Reading School and Kendrick School Study Partnership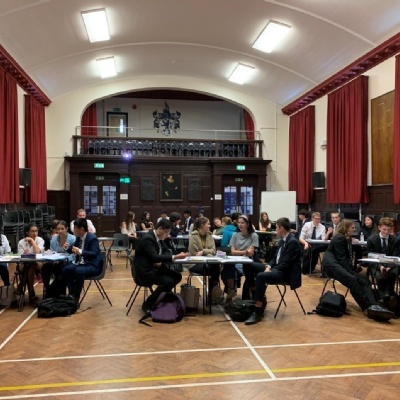 On 21st June, the English Departments from Reading School and Kendrick School staged their first joint study afternoon, designed to help A Level English Literature students investigate and discuss their set texts in even more detail and depth.
The two groups of Year 12s met at Kendrick under the guidance of staff from both schools and formed research groups to investigate context and performance of "Hamlet", and critical interpretations of "Paradise Lost".
The afternoon presented lots of challenges for all of the students, and the Reading School boys felt it was an enriching experience.
School Captain Hugo R (12CF) said:
"The main benefit of sharing ideas with students from another school was the fact that I experienced viewpoints that I wasn't used to experiencing."
Archie D (12CF) added:
"It was a good opportunity to get new ideas about both of the texts we discussed and to improve skills that we will need for exams and for further education. For example, I enjoyed the good practice of information gathering and arguing a point even if I don't necessarily agree with it."
Charlie B (12FEH) summed up one advantage of the partnership:
"The perspective of the Kendrick students was particularly interesting on matters that related to gender, such as Gertrude's portrayal in 'Hamlet', or Eve's decisions in 'Paradise Lost'."
The respective Heads of English, Jennifer Fieldsend and Robert Baldock, plan to continue this programme with more study partnerships in the autumn term.
#ReadingSchoolFamily #KendrickSchool #ALevel #EnglishLiterature #Shakespeare #Study #Community #Poetry #ParadiseLost #Hamlet