A spectacular end to the Summer Term 2019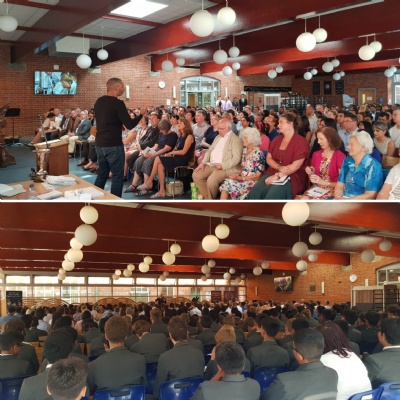 Reading School welcomed Hardeep Dhanjal, a motivational and inspirational TEDx Speaker from Denmark, to deliver not just one but two very powerful speeches which inspired our pupils, current and former staff, parents and ORs of Reading School at our Junior Prize Giving 2019
On Tuesday 16th July, Year 9 and 10 pupils were fortunate to attend a powerful and moving assembly delivered by Hardeep from Hardeeps Corner with important messages that align with Reading School's values of Excellence, Integrity, Leadership and Community, but more importantly, a message that you never 'win or lose' but instead you only 'win or learn' and having the courage to step out of your comfort zone.
The same afternoon, Mr A M Robson (Headmaster) opened the Junior Prize Giving ceremony by highlighting the breadth of success throughout this academic year, from winning competitions in academics and sports as well as co-curricular activities. He talked about the many ways the School is invested in building for the future and the fundamental attributes of 'Building Good Men' with a key emphasis on developing and serving our community.
The Headmaster paid tribute to the long serving teachers who retired this year, by honouring them with named awards, growing on recognition of those awarded last year, namely:
Helen Stapleton (1981-2019) - The Helen Stapleton Award for Chemistry
Steven Longstaff (2004-2019) - The Steven Longstaff Chemistry Award
Caroline Fooks (2005-2019) – The Caroline Fooks Drama Achievement Award
Mary Clare Maunder (2001-2019) – The Mary Clare Maunder Prize for Outstanding Effort and Improvement in Biology
Alan Walder (2002-2019) – The Alan Walder Excellence in Mathematics Prize
As well as teachers with long service and OR's that have committed to the life of the School namely:
Jo Capon (1997-2018) – The Jo Capon Drama Achievement Progress Award
Tom Walter (1977-2014) – The Tom Walter Geography Achievement Award
Tom Pravda (OR 1988-1995) – The Tom Pravda Economics Award
Hardeep was also our keynote speaker, at our annual Junior Prize Giving, where pupils are awarded for their achievements and progress in academics and character, underpinning 'Building Good Men'. Hardeep's speeches are influenced by his own life experiences, multicultural understanding and journeys around the world, spiritual wisdom and passionate approach to life. He has an altogether unique ability to speak straight from the heart. He lectures in Danish and English and always maintains an international approach to the challenges we face on a personal and professional level today. He spoke about the struggle against limitations that stop many people setting new goals in life and living out their dreams. The overwhelming positive response Hardeep has received from schools, professional sport teams and the business world has motivated him to dedicate his life to inspire others everywhere in the world.
Dr Rev'd C Evans (Deputy Headmaster) meticulously announced the winners of prizes, together with summaries of the named awards, along with honouring special guests with named awards, returning for the ceremony.
Mr A M Robson (Headmaster) said:
"The afternoon was a resounding success as Hardeep focused on how to 'attack your fears' with qualities such as discipline, remaining positive, staying focused and dedication, which resonated with pupils and adults alike. We are delighted to have had so much positive feedback on this event which is kindly sponsored by the Reading Foundation for which we are truly grateful."
Testimonials from pupils and parents:
Vishal S (10C) commented:
"I was genuinely really inspired by the way he spoke and how he made us feel - that anyone can achieve what they really want with perseverance."
Reuben H-D (10E) stated:
"I was really touched by his story of being the son of immigrants in Denmark and his journey from the streets, avoiding the wrong crowd, getting his grades and becoming a successful rapper. Moreover, how he is now travelling internationally, motivating others."
Malhar D (10S) said:
"From the minute he started speaking everyone was really engaged. He had so much energy and really emphasised that he was just like many of us and that he had a dream and after 12 years he achieved it. The best part was how he kept repeating that we only 'win or learn', we never lose... "
Matthew G said:
"The talk we received from Hardeep Dhanjal was truly inspiring. Detailing the rich experiences he has had during his lifetime, he was highly motivational, certainly inspiring me to be more confident in myself. I am very grateful to have had the opportunity to listen to his speech, and think his message is a very important one."
Armaan C (7W) said:
"Hardeep certainly has motivated me to work harder and not let my fears drag me down."
Gautham N (7C) commented:
"The whole event was brilliant, I am pleased with my award and the speaker was truly inspirational and fitting for this afternoon".
Parent comments included:
"What a fab speaker! Totally the right message for the boys (& parents)."

"Probably one of the best speakers I have heard."

"I am sure the corporate world could use Hardeep."

"Hardeep speaks from the heart, he made me feel alive at my age!"
A heartfelt thank you to both Hardeep and Peter for flying in from Denmark to give us a rousing morning and afternoon.
We have received many enquiries about our speaker. Hardeep can be contacted via his agent, Peter at www.HardeepsCorner.com.
Special thanks also go to Peiyan H (7L), Kamran S (8C) and Joseph M (8L) for playing the opening and closing music for the afternoon.
A special thank you to the Reading Foundation for their continued support of the School and supporters of the School that have endowed gifts as prizes. We are grateful to those whose generous support enables us to recognise the achievements of our students.
Thank you also to all the parents who donate to the Reading School Annual Charitable Fund to enable co-curricular activities to flourish.
Thank you to our parent and alumni community who volunteer their time and expertise regularly to help our School grow.
Particular thanks are extended to Mrs J. Chhokar (Society Manager) and Miss P. Hutchinson (Society Assistant) for the arrangements of this prestigious event and production of the programme, together with the Catering and Estates teams. If you would like to sponsor Reading School's Junior Prize Giving or endow a gift for annual prizes, please contact Jas or Piatrice at events@reading-school.co.uk
From Reading School…we wish you all a very restful summer.
@HardeepsCorner #NoFear #WinOrLearn # Positive #Inspirationalspearker #RSenrichment #ReadingSchoolFamily #Excellence #community #TheReadingFoundation