Reading School A Level Results 2019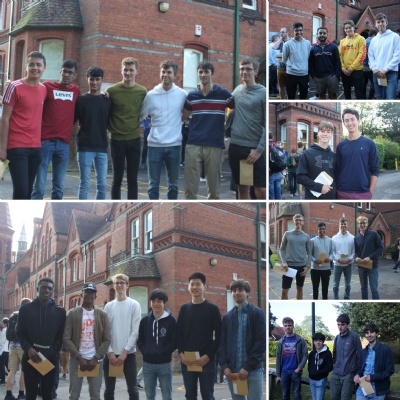 Reading School Sixth Form students were celebrating a fine set of A Level results published today.
Overall 88.7% of all entries were awarded A*- B grades, with over 25% of candidates achieving at least 3 A* grades. In addition, 71% of candidates gained at least AAB.
Ashley Robson, Headmaster stated:
'Overall the cohort is to be congratulated on a very good set of results. Our students should be proud of their achievements which are a consequence of hard work and resilience over a sustained period of time. I would like to take this opportunity to thank their teachers for their dedication and professionalism and governors for their support and challenge. Furthermore, the support of parents and carers has been much appreciated.'
Arts and Languages had an impressive year. Art, Drama, Latin, English Literature, Music and Spanish all achieved 100% A*-B.
Biology, Economics, Geography and History also excelled. For instance, 92.3% of students of Biology gained A*-B along with 94.4% of Economists. Humanities subjects, History and Geography faired extremely well with 94.4% of Geography students and 94.1% of Historians achieving A*-B grades. In addition, 88.5% of Chemistry students gained A*-B.
With reference to individual success stories David C gained 4 A* grades in Chemistry, Maths, Further Mathematics and Physics. In addition, he was a Prefect responsible for the work of the Student Charity Committee and also a member of the successful Senior Football Team.
Tomi A gained 2 A* grades in Economics and History alongside A grades in Geography and Maths. Tomi has also participated in the World Individual Debating and Public Speaking Championship as well as being a stalwart of the First XV Rugby team. Fred N achieved 3 A* grades in Biology, Chemistry and History and a Grade A in Mathematics.
Fred N (Year 13) said:
'I'm really excited to be heading to Oxford University next year to study Biochemistry. I am very happy with my results and I'd like to say a huge thank you to the school for all the effort that they have put in, both with school work and co-curricular activities, over the past seven years.'
Ben B's achievement in gaining 5 A* grades in Chemistry, Economics, Mathematics, Further Maths and Physics was matched by Tommaso L. Sean L gained 3 A* grades and 1 A alongside directing School Drama productions and Ewan M was awarded 3 A* grades including Music, the subject he will be studying at Oxford University.
Mr Chris Nicholas, East Wing House Master and from September Head of Sixth Form praised members of the Reading School Boarding family:
'It is especially pleasing to see some of the successes of the Boarding community. For instance, Cian O'H gained 4 A* grades and is set to study Medicine at Cambridge University. Whilst Deavin F achieved 3 A* and 1 A grade and will be studying Engineering at Oxford University.

The Boarding environment can be considered an excellent preparation for University life. It also fosters a spirit of community and teamwork. Their performance is an illustration of our belief in academic excellence and building good men. We are very proud of all of their results.'
Dr Chris Evans, Deputy Headmaster commented:
'We wish all our students well in the next stage of their lives, whether that be at University, on a gap year or in employment.'
A huge congratulations to the Class of 2019 from everyone at Reading School.
For photos from this morning please click A Level Results Day 2019 at Reading School
#Alevelresultsday2019 #ReadingSchoolFamily #OldRedingensians #Alevel #Excellence #RSKeepInTouch #ReadingSchoolAlumni