Junior WOLF Run 2019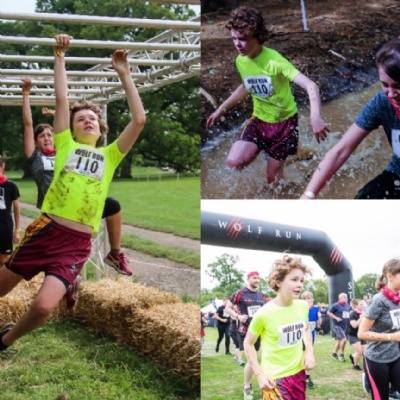 The Junior Summer WOLF run (Woods, Obstacles, Lakes and Fields) is a 3K circuit for ages 7 to 17. It takes place at one of the most epic venues in the UK, ideal for an off-road obstacle course. Set in the grounds of the striking Stanford Hall estate, Leicestershire, wild springs and dense woodland make this course both beautiful and challenging. The infamous Mud Sucker obstacle is the highlight for many Wolf Runners.
Impressively, Thomas achieved 40% of his target in under 24 hours. Thomas' initiative was completely led by himself and serves as an inspiration.
Thomas K (7E) said:
"I have been watching my dad take part in the Wolf Run (www.thewolfrun.com) obstacle race series for the last 3 years and have been eagerly wanting to take part. Finally, this year, they launched their first ever Junior Wolf Run which took place on Sunday 2nd June 2019 at Stanford Hall in Leicestershire ahead of the main adult event. As soon as I heard about the junior event I knew that I wanted to participate and I thought that it could be a good opportunity to raise money either for school or for charity. I decided to try and raise £500 for the PE Department at school as I'm a keen, and competitive, sportsman and have represented the school at rugby, football and athletics in my first year as well as taking part in as many of the House competitions as possible.

The Junior Wolf Run was based on a 3km loop which you could do once or twice. It started off with a group warm up and then we were off, through the river and into the woods. Along the way we tackled rope climbs, cargo nets, tunnels and monkey bars and of course lots of mud and water! The run finished with another river crossing and then over the finish line for a well-deserved bottle of water and a medal. The showers were only a little bit warmer than the river, but the sun was out and at least the water was clean. Hopefully there will be another event next year as it was great fun and different from just going for a run.

I'm really pleased that with the support of my family and friends I was able to exceed my fundraising target and that we can use the money to get a dedicated Athletics kit for when we represent the school in competitions."
Mr A M Robson (Headmaster) was delighted with Thomas' effort and commented:
"Congratulations to Thomas for his inspiring feat in the first ever Junior WOLF run. To complete this challenging course is a huge achievement and a testament to his character and I hope his drive and passion will spread among his peers. It is reassuring when our pupils recognise the importance of integrity and philanthropy and service to the wider community as this is embedded through our core value of Community. Thomas's commitment and enthusiasm to sport in his first year at Reading School has been outstanding."
A huge well done to Thomas K for completing the run and taking the initiative to support our School in raising funds.
Written by Tom J and edited by Ajai G (Year 12)
#philanthropy #initiative #ReadingSchoolFamily #excellence #community #FloreatReading #RSEnrichment #integrity