GCSE 2019 results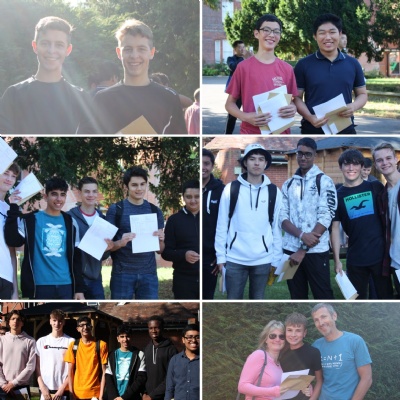 Reading School students are celebrating an excellent set of GCSE examination results.
47.7% of entries were awarded the highly coveted grade 9 and 76% were awarded grades 9-8. 90.9% of entries were awarded grades 9-7 and 100% of pupils gained five grades 9-4 including English and Maths. In addition, 97.6% gained five grades 9-7, 58.9% gained ten grades 9-7 and over 94% of candidates achieved the English Baccalaureate.
Regarding specific subjects, a record 86 pupils achieved grade 9 in Chemistry and 96% of biologists and 97% of Physics students gained grades 9-7. Furthermore, 95% of History candidates gained grades 9-7 and 53 geographers were awarded the highest possible grade. In Mathematics, 111 out of 124 candidates gained grades 9-8. Students of Latin were not to be outdone, recording 95% grades 9-8.
Mr A M Robson (Headmaster) commented:
"Our young men should be rightfully proud of their outstanding academic achievements. Significantly, the high quality of teaching has provided the students the opportunity to flourish academically. It is through consistently high quality teaching that so much value is added, as well as exceptional pastoral support. This ensures personal and emotional development of our young men, to enable every student to take responsibility for their choices and actions.

Therefore, these positive outcomes can be seen as an illustration of the approach that we term 'Via Redingensis' or the Reading Way, which values both academic excellence and building good men through emphasis on character. As a meritocracy, we are committed to providing opportunities for talented, young men from all backgrounds to flourish. Academic Excellence is a necessary but not sufficient outcome of education at Reading School. We would like to acknowledge not only the individual successes in terms of outcomes, but also the way in which students have responded to personal challenges and shown character, leadership and a sense of community."
John S (11W) and Arkin F (11E) achieved the highest possible grades in each of their GCSEs, as well as A grades in AS Philosophy. Edward B (11C) gained ten grade 9s and an A grade in Additional Maths, whilst James Weir also gained ten grade 9s at GCSE. The boarding community were also celebrating some of their best ever results.
Chris Nicholas (Assistant Headmaster and East Wing Boarding Housemaster) said:
"The results are undoubtedly due to the excellent teamwork and inspirational support the boarding community provide for one another."
Dr Chris Evans (Deputy Headmaster) stated:
"Undoubtedly Reading School pupils have demonstrated a great deal of character and resilience in successfully meeting the considerable challenges of the GCSEs. We celebrate their academic success which is well deserved and we wish them well in their future studies, both here at Reading School and at other institutions. The Reading School family, supported by the Reading Foundation and parents working together as a community, has helped to build the firm foundations to fulfil our aim of achieving academic excellence and building good men."
Once again congratulations to our Year 11 pupils on superb results.
For photos from this morning please click GCSE Results Day 2019 Photo Gallery
#GCSEResults2019 #ReadingSchoolFamily #Excellence #RSKeepInTouch