The Frank Terry Memorial Lecture- 150th Anniversary Special- Thursday 17th October 2019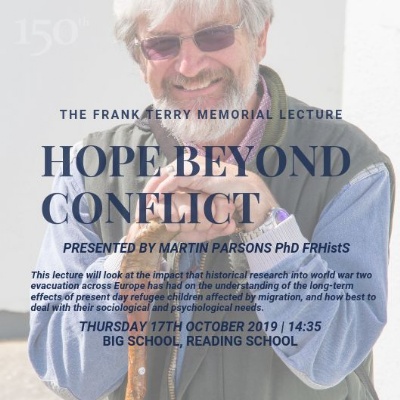 As the 150th anniversary (of the laying of the stone on Erleigh Road), we are delighted to be welcome back Martin Parsons PhD FRHistS (OR 1963-1970) to present the Frank Terry Memorial Lecture 150th anniversary special.
Martin Parsons PhD FRHistS (OR 1963-1970) is a Professor of Modern History and former lecturer at the University of Reading, and the University of Lodz in Poland. Formerly the Director of the Research Centre for Evacuee and War Child Studies which he established in 1997, he is considered an expert on war children and the evacuation in wartime Britain and he is now a Research Fellow and Honorary Life Fellow at the University of Reading.
Martin has lectured and organised workshops on the topic of War Children at various Universities in the UK, USA, Poland, Norway, Sweden, Finland and Germany for students and teachers and presented papers at many international conferences in Scandinavia, Western Europe and the USA.
He has been invited to lecture to various national bodies, both in the UK and overseas, including guest lectures at the English-Speaking Union, the Cabinet War Rooms, Westminster Central Hall and the German Embassy and he gave the Key-note address at the opening of the Imperial War Museum Evacuation Exhibition in London.
In 2016, he was appointed an Associate Director at the Centre for Learning Behaviour at the University of Northampton, an organisation that deals with the educational and long-term psychological problems facing present-day refugee children and has recently co-founded a charity (Beyond Conflict) working with war-orphaned children in Iraq.
As well as lecturing, Martin is also the writer of many books in this subject area and both a consultant and contributor to documentaries such as the BAFTA-winning 'Britain at War in Colour' documentary for Channel 4, the BBC2 programme 'Evacuees' in The Lost Decade series (2005) and has co-researched and co-wrote the Radio 4 series on Evacuation that went on to win the Sony Gold Award for 'Best Documentary'.
'Hope Beyond Conflict' will look at the impact that historical research into world war two evacuation across Europe has had on the understanding of the long-term effects of present day refugee children affected by migration, and how best to deal with their sociological and psychological needs.
The lecture will take place on Thursday 17th October at 14:35 in Big School. Refreshments will be served after in the Refectory.
To confirm attendance please click here.
For further, information contact Miss P Hutchinson or Mrs J Chhokar at events@reading-school.co.uk
Arranged by Jas & Piatrice in the Society Office.
#ReadingSchoolFamily #OldRedingensians #History #FrankTerry #WarChildStudies #BuildingBetterMen