The History of the Alphabet- Tuesday 22nd October 2019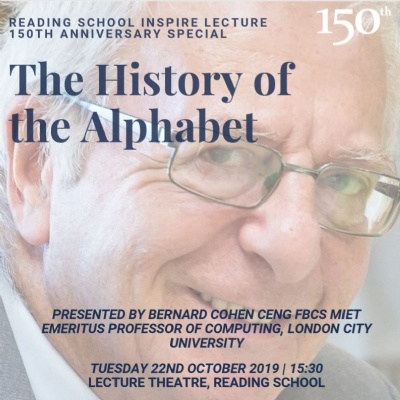 Reading School welcomes Professor Bernard Cohen CEng FBCS MIET, Emeritus Professor of Computing at London City University to talk about one of the most important inventions in world history: the alphabet.
Bernard Cohen developed computer systems for ITT from 1965 until 1984 when he was appointed to the Racal Chair of Information Technology at the University of Surrey. In 1990, he became Professor of Computing at City University. He retired in 2006 but still pursues his research in socio-technical systems.
Bernard traces the very first origins of the alphabet we know today, from its reduction from hundreds of hieroglyphics and cuneiform shapes to a couple of dozen symbols by a bunch of illiterate Canaanite miners in the Sinai Desert.
The History of the Alphabet lecture will take place on Tuesday 22nd October at 15:30 in the Lecture Theatre.
Pupils, staff and parents are all welcome.
For further information, please click here Professor Bernard Cohen Inspire Lecture
To register attendance please click here- History of the Alphabet Inspire Lecture
Arranged by Piatrice & Jas in the Society Office.
#ReadingSchoolFamily #RSInspireLecture #Alphabet #ComputerScience #Computing #Technology #CityUniversity #UniversityofSurrey