A flying start to Rugby this year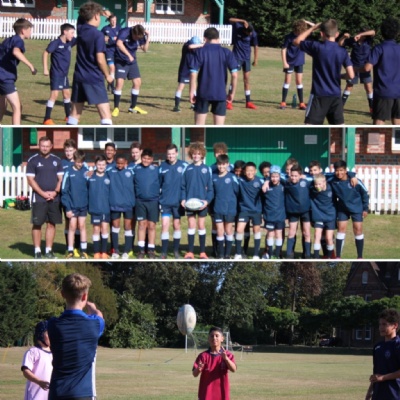 Rugby at Reading School has been a hive of activity for sporting success, leadership activity and fundraising initiatives this term.
With the new school year fully underway, the students and staff are thoroughly enjoying sport at Reading School. In Michaelmas term, the focus for inter-school sport is on rugby, with high quality training allowing all pupils to develop their skills and progress through teams. Reading School is proud of its rugby tradition, and through the junior years we nurture a love for the game through building confidence and ability in contact.
The juniors and seniors have been training intensely under the guidance of Mr Steadman (Head of County House and Teacher of PE). As part of the Floreat Leadership Programme, senior students are undertaking roles to coach and mentor our junior rugby players. This enables us to bring together the junior pupils to learn, share, grow and develop in sports from our senior role models. Yesterday, Adam P (11S) and Dominic S (11S) displayed excellent leadership and coordination in this term's first session by leading the Year 7 rugby squad (pictured top and bottom).
Additionally, thanks to the hard work and fundraising of Thomas K (8E), the juniors have been provided with a new set of warm-up tops (pictured middle). Thomas fundraised over £500 for the PE department by completing his first Junior WOLF Run.
The results of the time and effort invested into rugby have started to pay off this week, with the Year 8s claiming their first victory of the term over Ranelagh School.
We would like to thank the PE department in playing a vital role in the development of our students as part of the Co-Curricular Programme. Pupils can improve their skills and take up new interests and hobbies by getting involved in the schools' Co-Curricular activities. On to more progress and victories!
Click here for a full, updated list of clubs and activities.
If you are interested in sponsoring Reading School Sports please contact Jas Chhokar, Society Manager at events@reading-school.co.uk
#BuildingGoodMen #RSEnrichment #ReadingSchoolFamily #Sport #SchoolSports #ViaRedingensis #Rugby