Rewarding Excellence, Integrity, Leadership & Community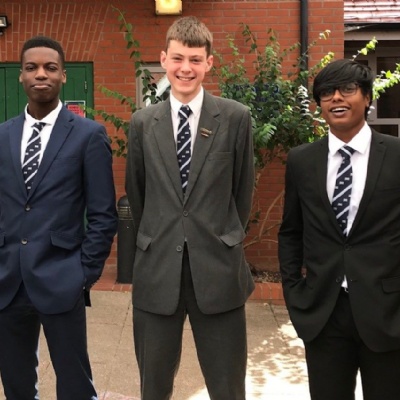 Three senior students have been awarded new Pupil Librarian ties to recognise their outstanding contributions to the Learning Resource Centre.
The Learning Resource Centre is very fortunate to be supported by a fantastic team of Pupil Librarians. Not only do they assist with the day-to-day running of the LRC, but they also work on special projects. These range from quizzes and competitions to cultural days, author events and promoting books and reading throughout school.
To recognise the valuable contribution these pupils make to the school and the additional responsibility they take on, we have designed a special Pupil Librarian tie. The ties have been funded using money generously received from the Reading Foundation and are awarded to those Pupil Librarians who have demonstrated excellence, integrity, leadership and community during their service in the LRC. Joint Head Pupil Librarians, Ojebo A (13ANC) and Matthew G (11C), and Deputy Head Pupil Librarian, Vamshi D (12TA), were delighted to be the first to receive the ties and are looking forward to the exciting year ahead.
#ReadingSchoolFamily #LRC #Learning #StudentLeadership #Excellence #Community #Integrity