Year 7 Welcome Service- Sunday 6th October 2019​​​​​​​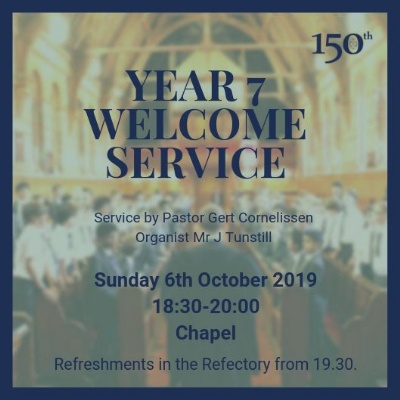 We are delighted to extend a warm invitation to you and your family to attend our annual Chapel service for new students, which will be held on Sunday 6th October at 18:30 in the School Chapel.
The new academic year has started and our new intake of year 7 students are already settling in. I hope that your son is enjoying his time here and beginning to make new friends and find his feet!
The Chapel service is an opportunity for us to give thanks for the talent, enthusiasm and opportunities the boys share, and for you to meet some of your son's classmates and their families.
Pastor Gert Cornelissen will be leading the service (which is around an hour) which will include a welcome from the Principal, contributions from a number of students and James Tunstill, Director of Music playing the Organ. Refreshments will be served in the Refectory from 19:30, where their will be plenty of opportunity to speak with other parents, your son's Head of House or the Headmaster.
We very much hope you can attend, and ask that if you are able to join us on this occasion.
To register your attendance, please click here- Year 7 Welcome Service Registration
For further information please contact Piatrice at event@reading-school.co.uk
Arranged by Mr G Cornelissen (Head of Religious Studies & School Captain)
#ReadingSchoolFamily #Music #Chapel # Community #BuildingGoodMen #Welcome #Year7