National Poetry Day 2019- Poetry on the Stairs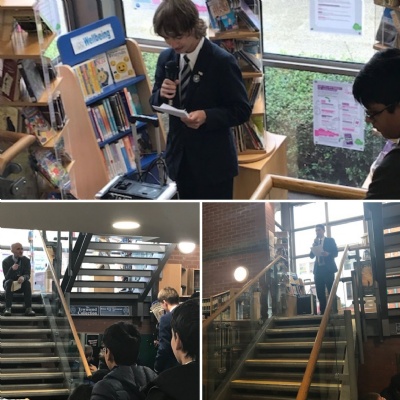 Reading School celebrated the 25th anniversary of National Poetry Day on 3rd October in the LRC with "Poetry on the Stairs".
National Poetry Day is an annual celebration of poetry and all things poetical. It's about everybody sharing poetry, reading poetry, writing poetry and enjoying poetry.
Budding poets and brave performers took to the stairs on Thursday to recite poetry during lunch and break times. Pupil Librarian Muhammed (13MJK) opened the proceedings with his own poem, swiftly followed by a flurry of keen staff and pupils.
Tell Me the Truth About Life is National Poetry Day's official 25th anniversary publication and indispensable anthology. Curated and introduced by Cerys Matthews, this collection features poems nominated for their insight into truth by a range of ordinary and extraordinary people.
Those inspired by today's event can enter the Pupil Librarian Haiku Competition on the theme of "The Truth About Life." Entries should be emailed to lkesteven@reading-school.co.uk by the 18th of October.
#ReadingSchoolFamily #NationalPoetryDay #Reading #RSEnglish #Haiku #Poetry #Excellence #BuildingGoodMen