Class of 2009: 10-Year Reunion brings old classmates together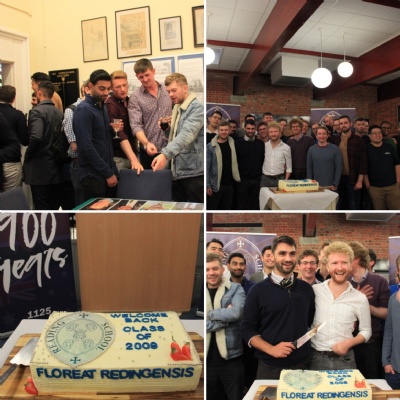 After 3 successful reunions this year, the 2009 reunion was no different. 31 Old Redingensians returned to Reading School to celebrate their 10-year reunion.
It was a very happy afternoon filled with laughter and everyone enjoyed the opportunity to catch up, reconnect and reminisce with friends and teachers. They started off with a drinks reception before speeches from Headmaster, Mr A Robson, Alumni Ambassadors, Krysh Patel-Parker & Jamie Scuffell as well as Ian Mckinnon, the newly elected President of the Old Redingensians Association. There was a great display of memorabilia put together by ORA archivist Ken Brown, gathered from the 2002-2009 cohort era, before an afternoon tour of the school.
Alumni Ambassador, Jamie Scuffell (OR 2002-2009) commented:
"Both Krysh and I have worked with the Society Office in the organisation of this event and we would like to thank Piatrice, Jas and the catering team for their tremendous effort. We would also like to especially thank the current and past teachers who attended including Mark Cooper, Mary Clare Maunder, Vivian Jenkins, Ben Coggan and Ned Holt."
Missed us at the reunion? Want a chance to re-connect with Reading School? Check out our 150th anniversary celebratory events below:

• Tuesday 31st March 2020- International Cultural Festival
Do you play music or act professionally - would you like to inspire the pupils of Reading School?

• Friday 26th June 2019- Drinks & Canapes
Interested in helping organise your milestone reunion? If you (or someone you know) graduated in one of these classes and are interested in volunteering to help plan reunion activities, contacting classmates and encouraging attendance, please contact Piatrice at events@reading-school.co.uk.

#ReadingSchoolAlumni #ReadingSchoolFamily #Reunions #10Years #OldRedingensians #FloreatRedingensis #RSKeepInTouch