Reading School welcomes back Class of 1998- 6 July 2019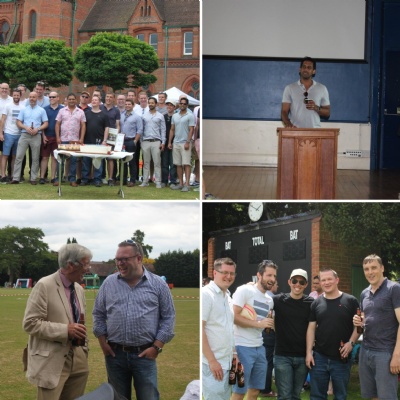 It was hard to believe this was the first, the Class of 1998 leavers had reunited since leaving school. We managed to get 30 old boys, 20 partners, 38 children and 4 former teachers in attendance and the weather didn't disappoint; the sun was shining and the School was buzzing due to the annual RSPA Summer Fayre.
This was the first year we shared a reunion in the summer with the RSPA which was a huge success. The School catering put on a delightful BBQ for lunch and afternoon tea on the front field, there were speeches by Alumni Ambassador Arjuna Soysa (OR 1991-1998), Ned Holt (ORA), and Mr A M Robson (Headmaster) which took place in Big School, before tours of the School commenced.
As the ORs were shown around the school with their families in tow, the sound of animated conversation as classmates reconnected and reminisced filled the halls as they walked through from old buildings to new ones. It was lovely to see ORs proudly sharing stories with their children, wives or partners, of their time at Reading School. The afternoon ended with a 5 a side game of football on the front field just like old times.
Arjuna commented:
"Everyone who attended commented how lovely it was to see everyone, some hadn't seen each other for 21 years since they left school! It was also great to see the school again and see the improvements that have been made - a lot has changed in 21 years. Overall an amazing day was had by all and we hope to get more in attendance in future reunions! Many thanks to Jas and Piatrice (Society Office), Ned (ORA) and the School for their assistance in making this reunion happen. We look forward to more in the future."
Mr A M Robson also said:
"It was a great day with young families enjoying the sunshine and activities arranged on the field. ORs shared their different chosen career paths, the variety was remarkable. They also expressed their willingness to share their knowledge and expertise with current students. Engagement with ORs is integral to the growth of the school and we are proud to share in their successes and achievements. The Society Office has done a stellar job in liaising with Arj (Alumni Ambassador for his year group) to arrange a 21 Year Reunion. We are also grateful to the former teachers that attended and Ned Holt (ORA) for all his support."
A special thanks to Alumni Ambassador Arjuna Soysa (OR 1991-1998) for helping the Society Office organise this event. We also thank the President of the ORA, Mr J Short for attending ans Mr K Brown for shring some lovelt memories from 21 years ago with this cohort of Old Redingensians.
#ReadingSchoolFamily #ReadingSchoolAlumni #OldRedingensians #FloreatRedingensis #TheReadingWay #Reunions #Classof1998 #RSKeepInTouch