Reading School's Inaugural Poet Laureate- Leo O'D (12PS)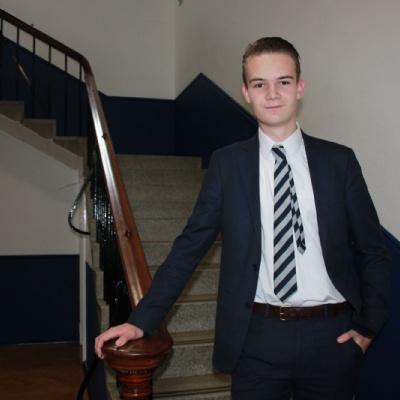 We are delighted to announce that Leo O'D (12PS) has been appointed as Reading School's inaugural Poet Laureate.
All pupils were invited to participate by submitting poems based around one of the four pillars of our school: Excellence. Integrity. Leadership. Community.
This initiative has been launched as part of the school's commitment to making literacy more visible across the school and in celebration of marking the 150th Anniversary of the laying of the Foundation Stone on this site. This has been led by Mrs Geraghty-Green as the school's Literacy Ambassador. The poet laureate will write verse to commemorate significant occasions throughout the academic year. These poems will be published to our extended school community and displayed throughout the school
Leo has begun his term in office by writing a poem in honour of the School's Commemoration service being held this afternoon:
What do you see in these walls?
This faded red, these bold grey streaks
that wind like ivy between the bricks
have been passed by; many times, of course.
One hundred and fifty years in flight;
familiar mazes of corridors straight,
and frantic stairs unmoved underfoot.
The silent sculpting of patient stone,
bowed arches, branches in the cloisters, that sprout and lurch from angular trunks.
These walls have stayed, and they have moved.
With every thought, and every step
We've shaped these walls into our school; ours for now, and later kept perfected in our hands.
By Leo O'D (12PS)
We would like to that thank all those that submitted some excellent poetry. Congratulations to Leo O'Donnell who has been appointed as our first ever Poet Laureate.
#ReadingSchoolFamily #RSEnrichment #ViaRedingensis #BuildingGoodMen #PoetLaureate #RSEnglish #Poetry #English