​Old Redingensians Association AGM & Dinner- 28 September 2019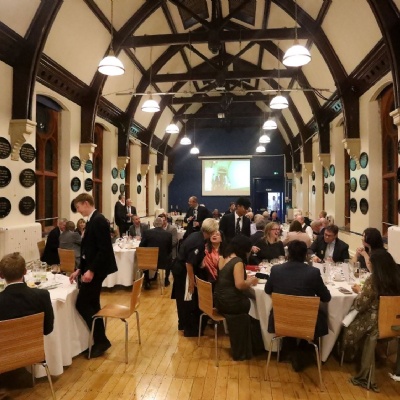 The Annual Dinner of the Old Redingensians Association (ORA) returned to its traditional home in Big School this year, and what a return it proved to be!
The ORA Annual Dinner has become over the years an important celebration of the unity and common purpose of those involved in the Reading School Community who come together to support its students.
In attendance were members of the Old Redingensians Association, who had just completed their Annual General Meeting, 8 members of the Reading School Parents' Association as well as 8 prefects including the School Captain, Hugo Rompani. The close co-operation and sense of community between the Headmaster, the Parents Association, the ORA and the students of Reading School was undeniable. In addition, 10 alumni from the Class of 1976 joined in celebrating their 50th Anniversary Reunion Weekend. With over 50 diners seated at 7 large round tables bedecked in crisp white table cloths and adorned with best silver cutlery, flowers and specially printed menu cards. It was a grand occasion.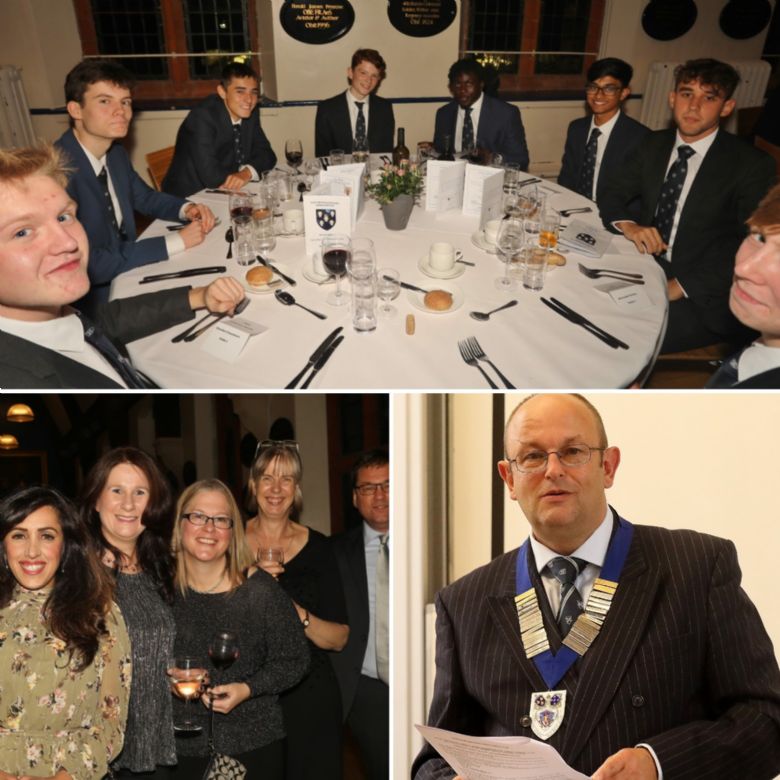 The meal itself was of the highest possible standard. The ovation for Michal Zakzewski, (Harrisons Catering Manager) and his team at the conclusion of the evening was fulsome testament to the company's appreciation both for the food provided and the care with which it had been served.
Mr A M Robson (Headmaster) spoke on recent developments within the School before a speech from the newly elected President of the Old Redingensians Association, Ian McKinnon (OR 1977-82). Ian reminisced of his time as a student while Vin Wijeratne (OR 1977-84) credited Reading School for his successful career at the Royal Mint. Jerry Vive (OR 1969-76) also recalled world events that occurred during his time at school including the first man landing on the moon.
Michael Maule (OR 1956-59) and David Cox (OR 1951-56) both Past Presidents of the ORA were admitted as Honorary Life Members of the Association earlier that day.
Raising funds and spending them to good effect is forever to the fore and many conversations which took place during the evening of 28 September will be seen to have borne fruit as the months and years go by. The School Captain, Hugo Rompani was gifted a £500 cheque by the ORA to invest in a School activity of his choice.
Special thanks go to Mr A M Robson (Headmaster) and Mr C Widdows (OR 1955-62) for his efforts in organising the dinner and his photography skills. A special thanks to Michal Zakzewski (Harrisons Catering Manager) and his team as well as the efforts of the Reading School Society Office and Estates team in their support.
If you are interested in attending next year's Old Redingensians Association AGM or Dinner to be held in September 2020, please email events@reading-school.co.uk to record your interest.
#OldRedingensiansAssociation #RSKeepInTouch #ReadingSchoolAlumni #ReadingSchoolFamily #ViaRedingensis