Commemoration Service 2019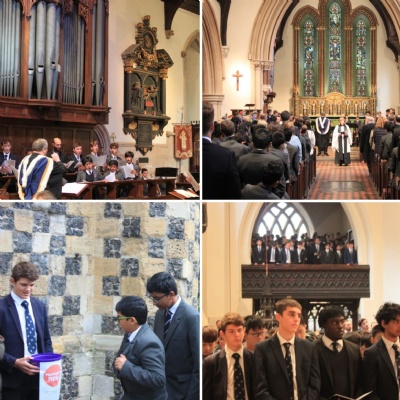 On Thursday 10th October, Reading School's community gathered in the Reading Minster to celebrate the commemoration of the School and give thanks for the School's founders and benefactors.
The service began with the entrance of the Headmaster, along with Clergy and guest of honours to 'Floreat Redingensis,' a fanfare specially commissioned as part of the school's 150th celebrations and performed by Reading Fanfare Brass, led by Mr James Newman (Teacher of Music).
Reverend Judith Sumner gave a warm welcome and benediction on behalf of Reverend Stephen Pullin, Assistant Archdeacon of Berkshire, Vicar of Reading Minister of St Mary the Virgin. The service included a series of uplifting hymns, as well as an exceptional reading of Hebrews 13, by Vice Captain, T. Haley.
Reading School was honoured to welcome Reverend John Fry, Vicar of the Theydon Parishes. He gave an engaging and inspiring speech on community, parodying the work of a selfish lifeboat club and encouraging everyone to live in a community that serves others. Reverend Fry related this call to community to the words of Hebrews 13, "Do not forget to do good and to share with others, for with such sacrifices God is pleased."
A special thanks go to Mr J Tunstill (Director of Music) and Mr J Newman (Teacher of Music) for arranging the Chapel Choir and Reading School Festival Brass. We would like to thank the Organist, Mr Andrew Knowles MA FRCO and bell-ringers (organised by Mr Ian Judd).
We would also like to thank all the staff involved with co-ordinating the logistics to and from the Church as well as to all the prefects & Year 13 volunteers, particularly Hugo W and Siddharth S (on behalf of the Charity Prefect, Benedict C), who raised money for one of the nominated School Charities, Meningitis Now.
For all the organising, we would like to thank Mrs J Chhokar and Miss P Hutchinson in the Society Office.
To see photos from the event, please click here: Commemoration Service 2019 Photos
#ViaRedingensis #ReadingSchoolFamily #RSCommemorationService #Foundersday #BuildingGoodMen #ReadingMinster #Community