Inspire Lecture- Machine Learning presented by Professor Maozhen Li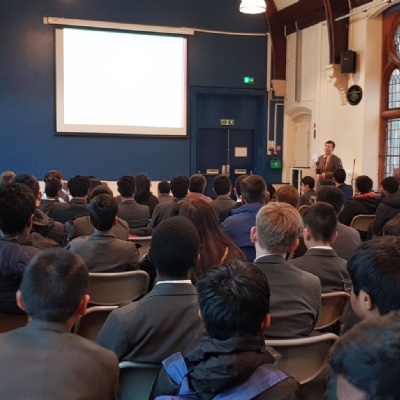 Last Monday, as a part of our 150th celebrations of the laying of the Foundation Stone on the Erleigh Road site, Reading School welcomed Professor Maozhen Li from the University of Brunel to host an Inspire Lecture for the Reading School community.
Maozhen is a Professor in the Department of Electronic and Computer Engineering at Brunel University London as well as a fellow of the British Computer Society (BCS). During the lecture, he provided us with some insight in to his work on Machine learning (ML), a branch of artificial intelligence (AI). Students as well as parents and governors came to listen to him speak about the recent developments in artificial intelligence in high supporting computer technologies. We were provided with explanations of how numbers are the key to a machine learning neural network and introduced to the concept of deep learning models. This lecture was attended by many interested students and teachers, fascinated by one of the industries' trending topics.
Keshav J (12HMY) commented:
"I found Professor Li's Lecture quite interesting and highly useful as I am considering to perhaps focus my Computer Science A-Level Non-Examined Assessment Project on some form of Artificial Intelligence. He was quite precise and very helpful as he defined the multiple different areas within Artificial Intelligence and their potential application to every-day use and life. A brilliant lecture that was extremely helpful."
A special thanks to Stephen Ling-Winston (Head of Computer Science) and Jas Chhokar and Piatrice Hutchinson in the Society Office for arranging the lecture.
Students who enjoyed this lecture are welcome to join Machine Learning Club and further explore this developing technology every Friday lunchtime in E2. Please contact Stephen Wing-Linston (Head of Computer Science) at sling@reading-school.co.uk for more information.
If you would like to deliver a workshop or Inspire Lecture in a specific industry or share your career pathway beyond Reading School, please do get in contact with Jas or Piatrice in the Society Office at events@reading-school.co.uk. Particular interest is in medicine, scientific research, finance industries, computer science, engineering, languages and the creative arts.
#ViaRedingensis #BuildingGoodMen #ReadingSchoolFamily #ComputerScience #MachineLearning #ArtificialIntelligence #BrunelUniversity #BritishComputerSociety #InspireLecture