Throwback: July 2019 School Physicist of the Year 2019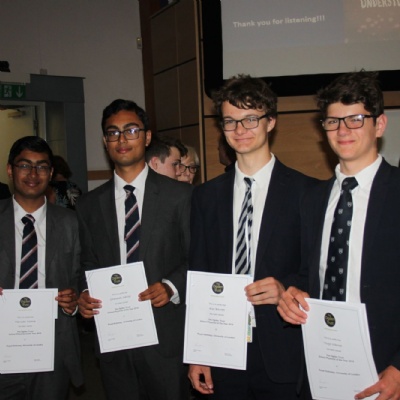 On the 3rd of July, Reading School students Alex B (DAW), Hugo W (PFC), Mannan K and Shaunak S (East House) were invited to the School Physicist of the Year event at the Royal Holloway University of London.
The event is run by the Ogden Trust and aims to reward enthusiastic students who have continued to show progression in Physics. The evening offered a taste of University physics, with undergraduate's on-hand to talk to the winning students, as well as a range of hands-on science demonstrations.
Mr A M Robson (Headmaster) said:
"Congratulations to all four of these young men on what is a very impressive achievement. We are very proud of not only of the academic excellence that these students have displayed, but also the attitudes and passion that each of them have shown towards a deeper understanding of physics. These young men perfectly reflect our flourishing Physics Department, all of whom must be commended for inspiring our pupils and providing them with the opportunity to attend the awards night."
A special thank you to Mrs V Zafeiriadou (Teacher of Computer Science) and Mr I Sharma (Teacher of Physics) for nominating the pupils and taking them to the event.
We look forward to continuing this success, this academic year, under the leadership of Mr P Stromdale (Head of Physics).
#ViaRedingensis #BuildingGoodMen #ReadingSchoolFamily #Physics #OgdenTrust #Excellence @ogdentrust