Throwback: Big Bang STEAM event July 2019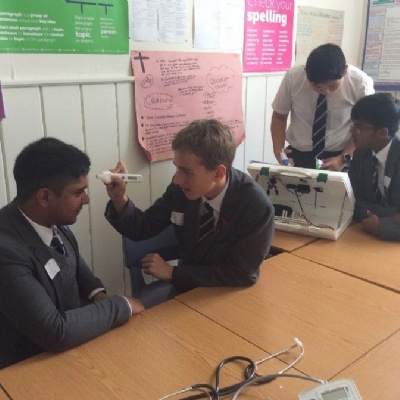 The careers fair consisted of two workshop sessions and a talk from Sustainability Design Engineer and Creative Business mentor, Erica Purvis from Technical Nature. The students were able to explore the stalls at the interactive event where there were representatives on hand to explain commercial opportunities in a diverse range of industries, academic courses with universities and alternative paths such as apprenticeships and gap years.
Saleh (10S) commented:
"On the 1st July a few of my friends and I had the fortune of attending a Big Bang Careers Fair, hosted by Leighton Park School, just a short walk away from our own School. The fair mainly focused on careers in science, technology, engineering and mathematics. In the main hall there were stalls managed by representatives from companies including Cisco and the NHS. The conversations were useful and enthralling, giving insight on potential career opportunities and paths. Afterwards, our group split off, into different classrooms and my group participated in a clinical trial, where we learnt about the processes that go into clinical trials and we investigated the responses to different flavours of jelly bean. We also learnt about career choices within the NHS and we got to use some NHS equipment, such as stethoscopes, vein viewers and blood pressure monitors. Towards the end, we listened to a speech about making the world more sustainable. The trip was very insightful."
Stratos (10C) also said:
"I found the careers fair very interesting and enjoyable. It gave me the opportunity to discover a lot about various different jobs involving the STEAM subjects and expanded my knowledge about future career paths.

My group attended the talks about jobs in the gaming industry and apprenticeships at Cisco. Both talks were incredibly interesting and provided many insights into the working experiences in both areas.

I also had the opportunity to ask the speakers a wide variety of questions, which allowed me to get a bigger picture of what it is like to work in those sectors. At the end of the event, there was also a fascinating presentation on the sustainability of waste products, which provided huge amounts of information on current global climate change issues and creative solutions. Overall, I benefited immensely from attending the fair and got a head start on looking into a wide range of career options."
A special thank you to with Mrs C Heston (Teacher of Chemistry) for leading on this trip and thank you to Leighton Park School for hosting this event.
#ViaRedingensis #BuildingGoodMen #ReadingSchoolFamily @LPSchool #Cisco #NHS #STEAM #STEMcareers