The Frank Terry Memorial Lecture held on Thursday 17th October 2019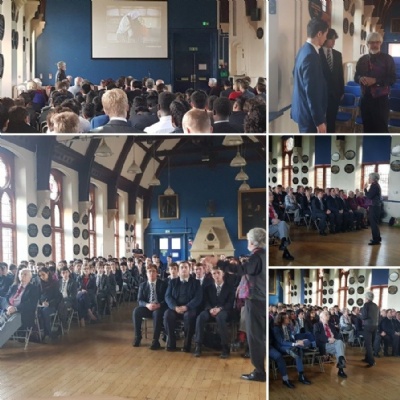 Reading School was delighted to welcome wartime evacuation expert, Martin Parsons PhD FRHistS (OR 1963-1970) to present the Frank Terry Memorial Lecture. Also poignant, as we celebrate 150 years of the laying of the Foundation Stone on the Erleigh Road site.
Martin is a Professor of Modern History and former lecturer at the University of Reading, and the University of Lodz in Poland. Formerly the Director of the Research Centre for Evacuee and War Child Studies which he established in 1997, he is considered an expert on war children and the evacuation in wartime Britain and he is now a Research Fellow and Honorary Life Fellow at the University of Reading.
The lecture was held in Big School and pupils and guests entered to 'A Requiem for a lost Child', composed by Adrian Snell, playing in the background to set the ambience for this Inspire Lecture.
The focus of this lecture was the impact on the evacuation of children during World War 2 and the lasting traumas experienced at later stages of life. Martin related issues to the present-day problems that refugee children still face, as a result of migration. He also touched upon sociological and psychological needs of refugee children.
It was evident that the pupils were engaged in this lecture, as they stayed back to ask questions directly related to both, History and Geography subject areas.
Martin is a long-standing patron of Reading School, having served as a School Governor for 7 years; held his book launch of 'I'll Take that One Too' in 2013; was selected as President of the Old Redingensians Associations from 2012 to 2013; provided Inspire Lectures to pupils of Reading School on various occasions; and he has written 3 books about Reading School, namely 'Old School Ties'; 'Men Such as These' and 'History of Reading School'.
Recently, Martin was appointed as Foundation Governor ending in December 2018 and now is Vice-Chairman of the Reading School Foundation. Martin has generously supported the School through various bequests and more recently is working with the Society Office as an Alumni Legacy Ambassador taking steps to engage year groups to embed the ethos of philanthropy and to continue the longstanding tradition of giving something back to Reading School by supporting the inspirational educational setting essential in today's fast-paced and ever-changing world.
James (Year 13) commented:
"The talk was incredibly interesting and will definitely encourage me to consider the impact of war on children more. I am interested in military history, especially world war II, and I never really considered the impact on children, especially the psychological impact. Professor Parsons was an excellent lecturer and it was an excellent talk with specific and relevant information."
Parent of Year 10 pupil commented:
"It is great that parents are invited to attend these Inspire Lectures. Professor Parsons' lecture was engaging and thought provoking".
Parent of Year 12 pupil said:
"We are grateful to be invited to the inspire lectures. My son is particularly interested in pursuing history or languages at University and listening to an old boy from the school certainly gives him inspiration in deciding what he might pursue."
To round off, refreshments were served in the Refectory where parents, students and alumni could ask questions about the lecture and network.
Mr A M Robson, Headmaster said:
"It is difficult to convey in words the sense of gratitude we feel with patrons like Martin Parsons, who directly impact our pupils and wider community. We sincerely hope that that our pupils will share the same affiliation with the school that Martin has demonstrated. Reading School drives the principle for service to others, 'giving back to our community'. We strive to embed this culture straight from Year 7 through to when our pupils embark on higher education and careers that will influence change in the wider world."
We would like to thank the Old Redingensians Association and in particular Francis Terry for enabling this lecture to take place in memory of his late father, Frank Terry.
Special thanks to Mrs J Chhokar (Society Manager), Miss P Hutchinson (Society Assistant) and Mr J Roberts (Estates Bursar) for organising this event.
If you would like to engage with pupils on a specific topic or have an inspiring career you would like to share, please get in touch with events@reading-school.co.uk to explore the opportunities for inspiring Reading School pupils.
Please click here to see photos: The Frank Terry Memorial Lecture Photos October 2019
Martin's book 'Old School Ties' can be purchased from the Society Office at Reading School. All proceeds go to the School. If you would like to purchase a book please contact the Society Office at events@reading-school.co.uk
#ViaRedingensis #BulidingGoodMen #ReadingSchoolFamily #OldRedingensians #ReadingSchoolAlumni #InspireLectures #History #WarChildStudies