Reading School awarded The Sunday Times Southeast State Secondary School of the Year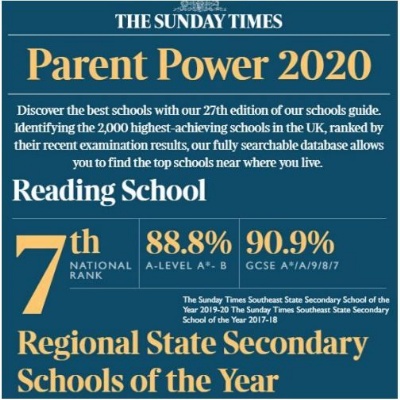 We are delighted to share this outstanding achievement as published in The Sunday Times on Sunday 24 November
Reading School has won The Sunday Times Southeast State Secondary School of the Year award. The school takes 7th place in this year's national league table of state secondary schools and continues to achieve well at A-level and GCSEs. Over 88% of A-levels resulted in A*s, A's and B's with Reading School students achieving a third of a grade per A-Level better than their peers with similar GCSE grades. In addition, over 90% of GCSE entries were graded as 9-7 and our GCSE cohort achieved one grade better per subject than students with identical achievement at the end of primary school resulting in a Progress 8 score of +1.03.
The top performing schools in the Southeast are revealed in Parent Power, The Sunday Times Schools Guide 2020, published in The Sunday Times and online from Sunday 24 November. Parent Power is widely acknowledged an authoritative survey of the country's best schools. The rankings in the secondary school league tables are determined by the percentage of examination entries gaining A* to B grades at A-level and the percentage of entries returning A* and A grades, and those graded 9, 8 and 7, at GCSE. They are published several weeks ahead of the official Government tables for secondary school performance.
The Sunday Times quoted:
"The top two grammars are recognised in our annual School of the Year awards: Reading School, one of a small number of state boarding schools, wins the Southeast State Secondary title, while Dartford Grammar School wins the UK International Baccalaureate award for the second time in four years."
Whilst Mr A M Robson (Headmaster) commented that:
"This accolade is testimony to the excellent teaching of our dedicated staff and the hard work and commitment of our students. At Reading School, we seek to support our students to aim high and develop ambitions that enable dreams to be achieved.

We want our students to fulfil their potential to not only benefit themselves but also the world around them. This is embedded through the school's core values of Excellence, Integrity, Leadership and Community. 'The Reading Way' supports our students to achieve academic excellence and to become good men and we believe both aims are essential aspects of an exceptional education.

We are proud to have been awarded 'Southeast State Secondary School of the Year' for 2019-2020, as well as being placed 7th nationally out of the top 500 State Secondary Schools.

Congratulations are due to the whole Reading School Community as the support of students, parents, the governing body, Old Redingensians is crucial to the continued development of Reading School.

Prospective students for Sixth Form entry in 2020 are welcome to attend our forthcoming Sixth Form Open evening on Thursday 28th November."
If you are interested in partnership or sponsorship opportunities with Reading School please contact Jas Chhokar (Society Manager) at development@reading-school.co.uk.
#ViaRedingensis #BuildingGoodMen #ReadingSchoolFamily #AcademicExcellence #Integrity #Leadership #Community #ParentPower #Boarding #ReadingSchoolAlumni #OldRedingensians #GoodSchoolsGuide #TheSundayTimes #SixthForm