Embrace #GivingTuesday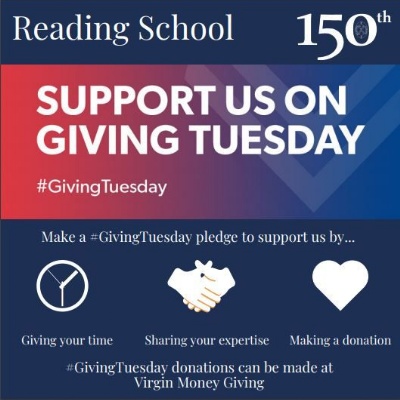 Make an Impact
The smallest acts of giving can have the biggest impact. Get involved in #givingtuesday today and do something good. In the UK, we have embraced #givingtuesday with open arms and last year 1 in 10 people did good deeds; a world record was set for the most money raised online in 24 hours and it was the UK's number 1 twitter trend.
We have had Black Friday and Cyber Monday, so why not get on board with #givingtuesday? We will use this global day to launch the various ways you can benefit our pupils and see how you can give. Giving doesn't have to be just monetary. For instance, it can be giving your time, sharing your expertise or making a donation.
You choose how you want to support Reading School. Whether you donate, gift books, sponsor education, or volunteer to teach or mentor - how you support Reading School is totally up to you!
Make an impact - support our pupils to grow their knowledge and education.
Contact Mrs J K Chhokar at development@reading-school.co.uk who can provide you with further information on the various ways to give.
#ReadingSchoolFamily #BuildingGoodMen #ViaRedingensis #OldRedingensians #GivingTuesday