Inspire Lecture- Charlie Taylor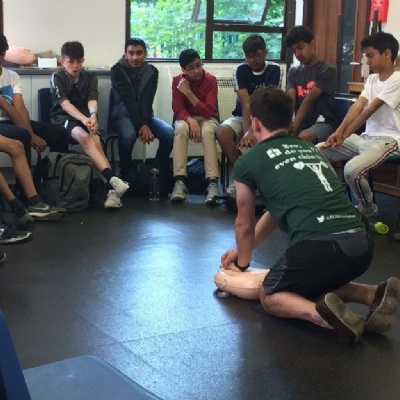 The inspire lecture saw Charlie use resuscitation dummies and various other pieces of medical equipment to train and educate Year 9 students in the basics of CPR and first aid.
Charlie began by speaking to Year 9 students about his decision to pursue a career in medicine before moving on to some demonstrations in how to use basic CPR and first aid. The students were left in no doubt about the importance of CPR, as Charlie used his real-life experiences to put the training in context. Charlie finished the lecture by allowing the students to have a go themselves, which allowed them to learn first-hand which techniques to use, and when to use them - information that could literally save a life!
Mrs J Pickering (Teacher of Biology & Medical Admissions Coordinator) commented:
"We are very grateful to Charlie for taking a day out of his busy schedule to help us in enrichment week and for his continued selfless support of our Medical Society. Charlie is working towards a career in trauma medicine with an element of teaching and it is easy to see how naturally suited he is to this path. He is a wonderful role model for our students."
Mr A M Robson (Headmaster) said:
"We are most grateful that former students have a great affinity with Reading School and will often volunteer their time to help and inspire current pupils. With an increasing number of pupils pursuing careers in medicine after leaving Reading School this workshop and lecture was appreciated by our current students. A special thank you goes to the whole Taylor family for all their support over many years."
If you would like to deliver a workshop or Inspire Lecture in a specific industry or share your career pathway beyond Reading School, please do get in contact with Jas or Piatrice in the Society Office at events@reading-school.co.uk. There is particular interest in medicine, scientific research, finance industries, computer science, engineering, languages and the creative arts.
#ViaRedingensis #OldRedingensians #BuildingGoodMen ReadingSchoolFamily #UniversityofBirmingham #Medicine #FirstAid #MedicalSociety #EnrichmentWeek