Meningitis Now - the country's leading charity for Meningitis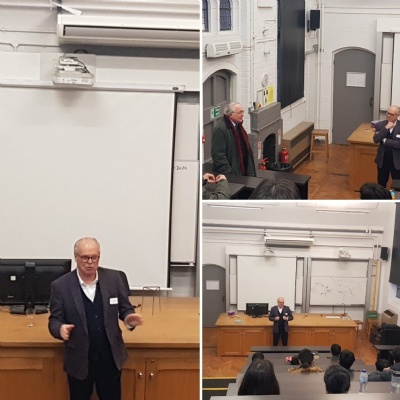 Reading School was delighted to welcome Dr Steve Dayman MBE last week, Thursday 16 January 2020
An instrumental figure in raising awareness of Meningitis, Steve volunteered his time to talk to our students and staff about why research and growing awareness is so important.
Steve Dayman knows personally the impact of meningitis having lost his son Spencer to meningitis in 1982.
Despite the fact that experts could not see any vaccines for meningitis, Steve started studying the disease, eventually receiving a honorary degree and doctorate, an MBE from the University of Bristol for services to medicine and picked up a special recognition Pride of Britain Award.
At the end of the lecture there were many questions from pupils, teachers, parents and Old Redingensians providing an interactive and inspiring lecture. Thank you to Dr Steve Dayman MBE.
Armaan C (8W) commented:
"It was a very moving and informative speech, now I know how to look out for meningitis or septicaemia and just how impactful it can be on young lives and their families."
Dudley Bruton (OR 1948-1951) said:
"Informative - A clear account of the various causes of meningitis and their consequences, commonly serious and partly preventable by immunisations.

Inspirational - A person of no academic qualifications who because of a personal tragedy could found a charity of significant importance.

Important - Sixth formers going to University are at risk and need to ensure that they had the vaccine provided by the NHS in their childhood and should consider the polysaccharide vaccine currently only available privately.

Additionally, I suggest that School asks Dr. Dayman for a supply of his excellent information cards to be provided to all who attended his talk for distribution to all in the Upper Sixth now and in the foreseeable future."
Reading School looks forward to raising funds and awareness for Meningitis Now.
A special thank you to Charity Prefect Ben C (Year 13) for arranging this lecture with Miss Hutchinson from the Society Office.
If you would like to deliver a workshop or Inspire Lecture in a specific industry or share your career pathway beyond Reading School, please do get in contact with Jas Chhokar or Piatrice Hutchinson in the Society Office at events@reading-school.co.uk. There is particular interest in medicine, scientific research, finance industries, computer science, engineering, languages and the creative arts.
#ViaRedingensis #ReadingSchoolFamily #BuildingGoodMen #Community #OldRedingensians #MeningitisNow #Charity #RSGiveBack #MedicalSociety