Reading School prepares for the Magistrates Court Mock Trial Competition 2020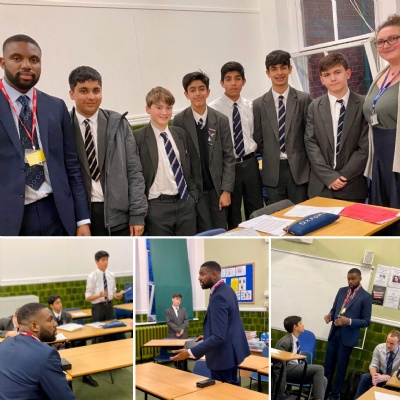 With help from Pump Court Chambers…
Reading School was delighted to welcome Jesse Cook of Pump Court Chambers, yesterday afternoon to work with our Year 8 and Year 9 pupils preparing for the local heats due to take place in March.
Before fully qualifying as a barrister Jesse worked as a paralegal at a West London law firm and enjoyed a successful career in legal recruitment in the City. Jesse was the perfect person to assist our pupils with practical advice given his extensive experience on complex legal matters and representing his clients in court.
Jesse is known for using both his life experiences and professional work to mentor and advise young people from deprived and socially disadvantaged backgrounds something that very much aligns with Reading School's Future Stories programme.
Milan G (Year 8) said:
Jesse's speech regarding his personal journey was utterly inspiring. Knowing the obstacles that he faced and overcame to become a successful barrister motivated me further. His feedback to the lawyers was constructive and invaluable. We all received reassurance and great advice on our advocacy skills.
Armaan C (Year 8) commented:
I would like to thank Mrs Gupta from LGFL for the training workshop, as this provided us with guidance on court etiquette. As well as arranging this opportunity with Mr Cook from Pump Court Chambers as he was very inspirational. Mrs Cash and Miss Pravda have provided us with guidance on a weekly basis and this session helped bring all that training to life.
#ViaRedingensis #ReadingSchoolFamily #BuildingGoodMen #Inspirational @LGFamilyLawyers @PumpCourt