Reading School's Year 7 student took second place in computational thinking challenge at the Department of Computer Science at the University of Oxford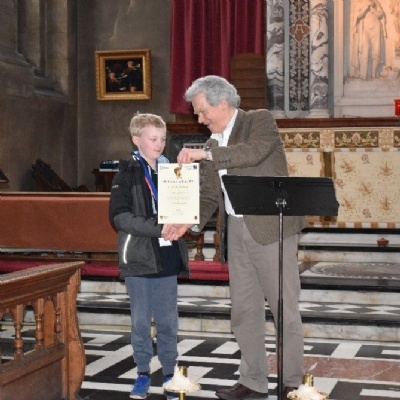 Among the top 61 highest achieving students to reach the final out of 79,986 participants
Reading School pupil, Peter B (7S) was invited to the Department of Computer Science at the University of Oxford on Saturday 25 January as a finalist in a UK-wide competition – The UK Bebras Computational Thinking Challenge.
Peter was among the top 61 highest achieving students to reach the final out of 79,986 participants students entered into the first round for this age group. In the Juniors (10-12) age category he achieved a second place medal which was presented at a prize-giving ceremony at Hertford College.
The UK Bebras Computational Thinking Challenge, supported by the Raspberry Pi Foundation, is designed to get students excited about computing and computational thinking. It is a problem-solving contest with questions inspired by topics in computer science. In the first round, held in their own schools, students have to try and solve as many problems as possible in the allotted time. There are six age categories. The highest scoring students from the four oldest age groups (Elite, Seniors, Intermediate, and Juniors) were then invited to the Department of Computer Science at Oxford for the finals over two weekends in January/February.
Mr Stephen Ling-Winston, Head of Computer Science commented:
All students in Computer Science from Year 7 through to Year 12 entered the Bebras (http://www.bebras.uk/) computational thinking challenge this year. We had over 170 students make it to the next round, organised by Oxford University (http://tcsocc.uk/info.html). It shows the calibre of the students we have at Reading School, since only the top 10% in the country are invited to take part. In addition, the high numbers who will take part in the Oxford Computing Challenge in March 2020, we had four students invited to attend Oxford University as top contenders in their age category.
We have the result of the Juniors, where Peter B came second from all entrants in the UK. Congratulations to Peter and we look forward to hearing back from the other top contestant who have their finals coming up within the next month.
Mrs A M Robson, Headmaster said:
Congratulations to Peter for reaching the final of this national competition. We are extremely proud of him and this achievement, which is testimonial to academic excellence. This competition challenges computational and logical thinking for the next generation of computer science students and encourage participation.
For more information, see bebras.uk
Photo attached: Leo receiving his medal and finalist's certificate from Peter Millican, Professor of Philosophy at Hertford College, University of Oxford.
#ViaRedingensis #Bebras #BuildingGoodMen #UniversityofOxford #ReadingSchoolFamily