Reading School Year 10 Maths Feast Competition 2020​​​​​​​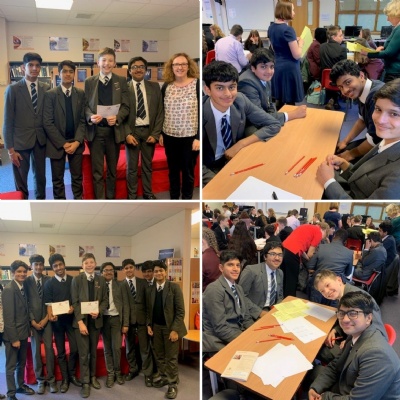 ASMP is a government-funded initiative, managed by MEI. It aims to increase participation in Core Maths, AS/A level Mathematics and Further Mathematics, and improve the teaching of these level 3 Maths qualifications.
There are several rounds requiring different skills and strategies for success. Each event takes between two and three hours, however, each year, the format of the Maths Feast competition changes slightly so that the rounds remain interesting and exciting.
Our team included Audric Thakur (10L), Surya H K (10S), Veer P (10L), Neel D (10L), Rahul G (10L), Siddharth B (10L), Rishi D (10W), Henry B (10E), Prakhar G (10C) and Aazim A (10E) were selected to represent Reading School at the Maths Feast hosted at The Downs School.
Our teams scored highly coming in 1st and 3rd place and demonstrated excellent teamwork and communication.
Special thanks to Mrs. N Williams (Teacher of Mathematics) for arranging participation and accompanying the boys to the School and The Downs School for kindly hosting the event.
#ReadingSchoolFamily #ViaRedingensis #BuildingGoodMen #RSEnrichment #Maths #MathsFeast #AMSP