The 39 Steps: A Reading School Production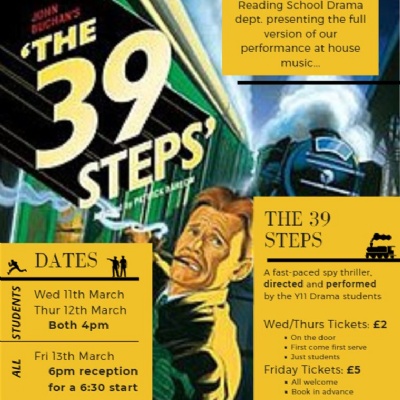 The Reading School Drama Department presents The 39 Steps, a fast-paced spy thriller directed and performed by Year 11 Drama students.
The 39 Steps is a parody adapted from the 1915 novel by John Buchan and the 1935 film by Alfred Hitchcock. The original concept and production of a four-actor version of the story was by Simon Corble and Nobby Dimon. Patrick Barlow rewrote this adaptation in 2005.
We recently staged an extract from The 39 Steps during our House Music Competition in November. We are pleased to announce that the box office for the full production of The 39 Steps is now open!
Student only performances:
Wednesday 11th March & Thursday 12th March 2020 at 16:00 in DS1
Tickets are £2 per student. Please bring cash to pay at the door.
To reserve seats for (student only) performances on: Wednesday 11th or Thursday 12th March 2020-16:00, please complete the form here: The 39 Steps- Student Only Viewing
Performances for all:
Friday 13th March 2020 at 18:00 in DS1
Tickets are £5 per person.
To book tickets online for: Friday 13th March 2020- 18:00 (open to the Reading School Community) please click here: The 39 Steps Tickets
Limited seats available!
This production is organised by Mr B Sandiford (Head of Drama).
If you have any queries please contact Mr B Sandiford at bsandiford@reading-school.co.uk or events@reading-school.co.uk
Poster artwork and design by Finbarr S (11C).
#ViaRedingensis #ReadingSchoolFamily #RSDrama #BuildingGoodMen #TheatreProductions