150th Celebrations: International Cultural Festival- Tuesday 31st March 2020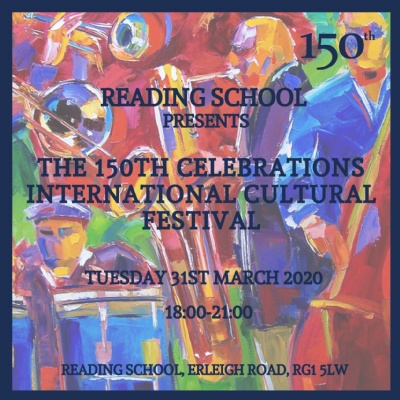 Join us for an evening of live music, dance and other performances from around the world by our students.
The International Cultural Festival is a celebration of culture through music, food, art and performances.
This event will also include:
Live cultural performances
A taste of International foods
Artwork on display and available for purchase, produced by our students
Special guest performance/workshop by K'Z Dance Entertainment who has previously performed at Wembley, Diwali in the Square, London as well as other large organisations
Family friendly entertainment
This event is a celebration of our diversity and our heritage. Celebrating our differences, as well as our common interests, helps unite and educate us. To understand other's perspectives, to broaden our own, and to fully experience and educate ourselves. Through each other's diversity, we become more aware of our own. Not only do we become more aware, we gain a sense of pride for the diversity of our own culture. Understanding people and their backgrounds is crucial to personal and community growth.
Join us on
Tuesday 31st March 2020
from 18:00
In the Refectory, Reading School
Tickets are:
Adult: £10
Children (Under 12): £5
Limited seats! Book Now!
To book tickets, please click here: 150th International Cultural Festival Tickets
If you have any queries, please contact Jas or Piatrice at events@reading-school.co.uk.
We look forward to seeing you there!
#ViaRedingensis #ReadingSchoolFamily #Community #Culture #150th #music #dance #BuildingGoodMen #InternationalCulturalFestival