Spanish Exchange to Albacete, Spain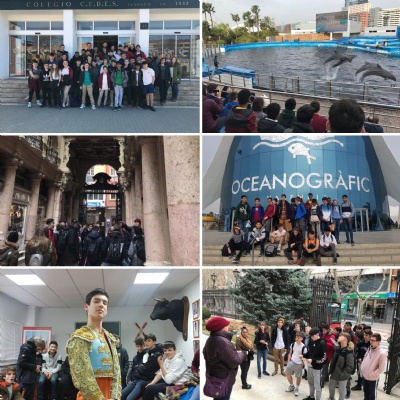 Reading School students had the chance to put their language skills to the test during an exchange trip with our partner school, Colegio C.E.D.E.S, a private bilingual school in Albacete, Spain.
The Spanish exchange provided an opportunity for students in Years 9, 10 & 12 to become immersed in Spanish language and culture. The exchange was the last leg of a two-way exchange with Colegio C.E.D.E.S. which included students being hosted by families, spending the weekend with them, attending lessons at the school with their partners and sightseeing with staff.
Students arrived in Spain early morning in Spain on Friday 7th February and were warmly welcomed by their exchange partners and host families. Some students spent the weekend visiting neighbouring towns and cities and enjoying the local cuisine.
On their first day of school on Monday, students enjoyed a breakfast of churros and chocolate and attended lessons with their exchange partners. On Tuesday, staff and students were taken on a guided tour of Albacete, where they visited Albacete Town Hall, Cathedral of San Juan de Albacete, Teatro Circo and Passage of Lodares before having some free time to explore the town.
A day trip to the Oceanographic in Valencia was organised for Wednesday, where they had a great time visiting the animal exhibits, watching the dolphin show and ending the day with ice creams on the beach.
Visiting the Plaza de Toros de Albacete bullring was by far the most exciting activity for the boys as they learnt about the history of bull-fighting and even got to try on the matador costume!
The week flew by as expected but by the end, all our students had made close friends with their Spanish exchanges. When they left, there were lots of heartfelt goodbyes. They are really looking forward to visiting Albacete again next year.
Here's what Daniel C (12SP) said about his exchange experience in Albacete:
"I would say that my experience on the Spanish exchange was positive for many reasons, both academically and personally. The host family that I stayed with was very welcoming and generous to me, and I really enjoyed the time that I spent with them.

As one of the sixth-formers on the trip, I participated in the work experience program, working with the bilingual part of the lower school. Understanding informal Spanish was difficult but I learned some new words and was able to communicate effectively for the most part. It was rewarding to be able to teach kids and see some of how schools vary between countries. Most notably, the pre-schoolers ate their breakfast at school.

The culture of Spain is fascinating. I had the opportunity to do lots of exciting things, such as visit an art museum in the Casas Colgadas (Hanging Houses) in Cuenca, or go out for tapas late at night. My favourite food was churros which are similar in consistency and taste to a doughnut but in the shape of a sausage, with sugar and chocolate on top. The Spanish diet also seems to be quite meat-heavy, with ham, beef, chicken, and calamari being among the foods I had the chance to try.

Owing to the fact that my exchange spoke minimal English at best, my Spanish skills were stretched over the two weeks spent with my partner, both at home and in Spain. It has been beneficial for the speed and fluency of my Spanish and will stand me in good stead for speaking in the future.

Overall, I made new friends, had fun, and picked up some Spanish. What more could you want?"
To view photos from the trip, click here: Spanish Exchange with Colegio C.E.D.E.S- Albacete, Spain
A special thank you to Mr J Escribano-Sanchez and Mrs E Humphries for successfully leading this trip for the second year in a row! We would also like to thank Mr L Green and Miss P Hutchinson for accompanying the students, the staff in the school office for their extensive administration and of course all those at Colegio C.E.D.E.S for helping to make this possible.
#ViaRedingensis #ReadingSchoolFamily #Spanish #MFL #Community #RSEnrichment #Languages #BuildingGoodMen​​​​​​