Alumni Author & Editor Tom Whipple returns to Reading School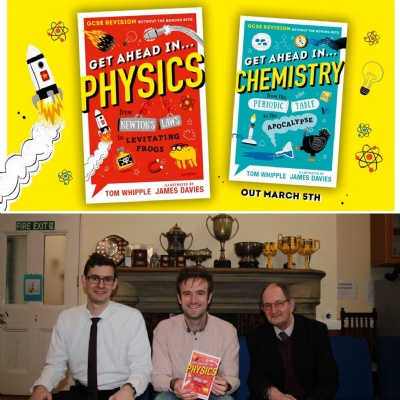 Award-winning Science editor and author Tom Whipple (OR 2000-2007) returns to Reading School with his new book 'Get Ahead in Physics from Newtons Law to Levitating Frogs.'
After leaving Reading School, Tom Whipple studied Maths at the University of Cambridge and after twice being named Guardian Student Feature Writer of the Year, he started freelancing features for The Guardian before, getting a job at The Times as a Science Editor.
Tom has a close affinity to Reading School having provided Inspire Lectures and advice at the biennial careers convention. During his visit, Tom caught up with his former Physics teacher, Mr Ian Sharma who he worked with to proof-read his book.
Beautifully illustrated by James Davies , Get Ahead in… Physics is designed to be used alongside your GCSE textbooks and revision guides. Each chapter covers key topics including:
The Particle Theory of Matter
Energy
Radiation
Electricity
Newton's Laws
Waves
Electromagnetism and Cosmology
Get Ahead in… Physics: GCSE Revision without the boring bits, from Newton's Laws to levitating frogs is available to buy on Amazon UK. You can also purchase Get ahead in…Chemistry out now and available at Amazon UK.
Got news to share?
We are always delighted to hear from Reading School alumni. By sharing your story, you can enhance the aspirations of students who wish to follow your professional path, inspiring them to succeed.
If you would like to share your story, please contact Jas or Piatrice in the Society Office at alumni@reading-school.co.uk. Particular interest is in medicine, scientific research, finance industries, computer science, engineering, languages and the creative arts.
#ViaRedingensis #OldRedingensians #ReadingSchoolFamily #ReadingSchoolAlumni #RSKeepInTouch #BuildingGoodMen @WalkerBooksUK @Whippletom @TheTimes