Resilience, Excellence and Team Work: Achieving Goals in Arctic Conditions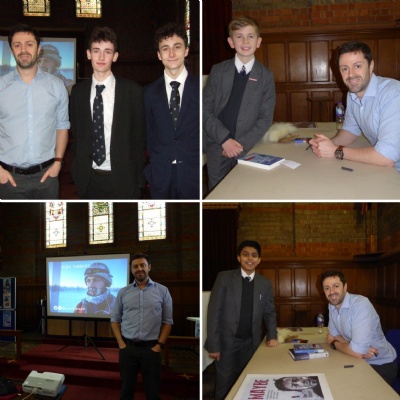 Polar traveller, author, and media personality, Alex Hibbert, spoke to all Year 8 and Year 10 on day two of Book Week 2020 about his experiences; including survival in extreme environments, testing new equipment, problem-solving and team-work.
Alex is a world-record-holding polar traveller who has skied further on an unsupported Arctic journey than anyone in history. He is also the author of four books; The Long Haul, Maybe, Kalaallit Nunaat and Polar Eskimo. Other media has included appearances on Primetime BBC, Channel 4, FIVE and guest columns for The Daily Telegraph.
His photographic collection has been published in every corner of the globe and he has been a BBC Wildlife Photographer of the Year finalist three times - this passion for the natural world leading to a degree in biology from Oxford University. He is currently in talks with Netflix over his Dark Ice Project which involves surveying the Arctic.
Here's what the students had to say about Alex as a speaker:
Harsha (Y10) commented:
"Good detail was provided by Alex Hibbert about his adventures with some elements of humour. I like how he showed us the equipment he used in that sub-zero temperature."
Nathan (Y8) said:
"It was very impressive hearing about all the amazing things that Alex had done. I liked the part when he was talking about pressing the red button that would call the US Military and how much it would cost".
Toby (Y10) also said:
"A really interesting and informative of a career path I would not have necessarily have thought about. It was interesting and inspirational. It opened a wider view on career choices and portrayed his inspiration to write books, giving us an idea on how to write."
A special thanks to Alex Hibbert for visiting our school for Book Week 2020 and the Old Redingensians Association for their generous support.
Thank you to Mrs Kesteven and Mrs Jackson from the LRC for arranging all the author talks and coordinating Book Week 2020.
Interested in sponsoring Book Week 2021 or promoting your book in partnership with Reading School, please contact Piatrice & Jas at the Society Office at events@reading-school.co.uk.
#ReadingSchoolFamily #ViaRedingensis #BuildingGoodMen #BookWeek2020 #ReadingSchoolBookFair #RSEnrichment #OldRedingensiansAssocation