Show Not Tell: The Power of Historical Fiction with Paul Dowswell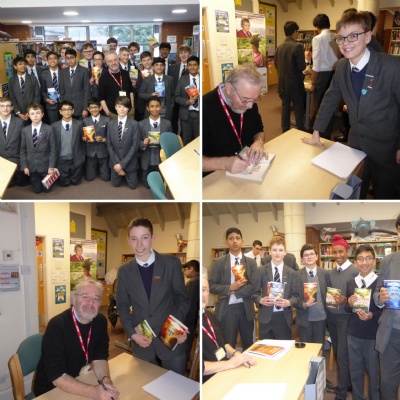 Award-winning historical fiction author Paul Dowswell inspired Year 9 GCSE history students on day three of Book Week 2020.
Paul takes his inspiration from history and uses historical research in his books. Auslander won the 2019 Trinity Schools Book Award and the 2011 Hamelin Associazione Culturale Book Prize and won or was shortlisted for 19 other UK and international book awards over 2009 and 2012.
Paul spoke about the OTC (Officer Training Corps) in schools and shared a photo taken at Reading School in 1914. They also looked at photos of the War Memorial in the Chapel and photos of individual boys from the school. Using more old photos he got the boys to think about the trenches, machine-gun fire and chlorine gas. What words can you think of instead of "brave"? What words can you think of instead of "afraid"? He asked the boys to think about the five main senses and how to incorporate this into their work. Using the "Show Not Tell" technique, pupils then began to write their own stories based on a photo from the Battle of the Somme with lots of constructive feedback from Paul.
Here's what the boys had to say:
"I enjoyed this session as I learned lots of things about WW1 and writing techniques. I enjoyed the writing experience as it meant I got to put my new writing skills into practice. I think having a workshop is really helpful as it gives us an insight into what it's like to be an author."
Sam (Y9)
"I enjoyed this workshop; it tied very well into our current history curriculum and I learnt lots about the war and various details about the soldier's life. The idea of reading something that involved our history seemed quite exciting and I found the backstory between each of the books very interesting."
Lucca (Y9)
"I enjoyed the workshop thoroughly! I learnt about the awful conditions in the trenches and our school's brave contributions to the war. I practiced my writing skills and wrote about things/events I don't usually write about. It was enriching and I look forwards to similar events in the future."
Ted (Y9)
"I enjoyed this workshop and I learnt how to improve my writing. I really enjoyed writing about the picture and I think my work is good. This really encourages me to read more historical fiction."
Thomas (Y9)
We hope to see what the boys learnt during the workshop in our Historical Fiction Short Story Competition in celebration of the laying of the foundation stone at our current school site 150 years ago. The deadline for entries is the end of term and stories of no more than 500 words inspired by the history of Reading School should be emailed to Mrs Kesteven.
We would like to thank Mrs Kesteven and Mrs Jackson in the LRC, the History Department for their tremendous effort in organising Book Week as well as the Old Redingensians Association for their generous funding.
Interested in sponsoring Book Week 2021? Please contact the society office at development@reading-school.co.uk
#ReadingSchoolFamily #ViaRedingensis #BuildingGoodMen #BookWeek2020 #ReadingSchoolBookFair #RSEnrichment #OldRedingensiansAssocation