FIRST® LEGO® LEAGUE 2019-2020 City Shaper Championship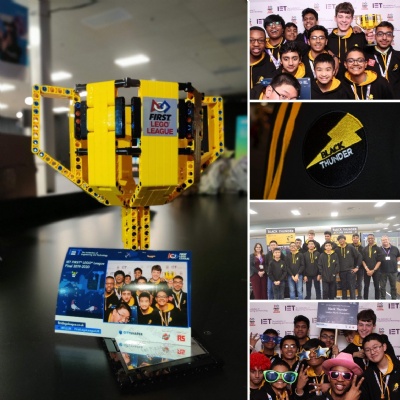 The FIRST® LEGO® League is a robotics competition that supports children and young adults in order to introduce them to science and technology in a competitive atmosphere. The competition is split into three categories: robot game, research project, and core values. In the robot game, teams have to design and program a robot autonomously, based on the LEGO® Mindstorms system, a set of missions. In the research project, teams have to choose a project connected to the yearly topic which this year is City Shaper. Teams have to research and analyse a problem in cities and develop an innovative solution and share their findings with others.
Matthew G (11C) commented:
"When we arrived, we attended the opening ceremony and a member of our team proudly carried our banner proclaiming us to be the Champions of the North London regional heat. Our first event in our timetable was our first robot game, at 10'O Clock, and though we went in with high hopes, we only scored 120 points. This was disappointing, but we still had more events to compete for and we had more opportunities to improve our robot score.

Next, we had our innovation project, which was the Parking Bot app (available on the Google Play Store). Our presentation about the app went quite well and we received some feedback that would come very useful in internationals. Following that, we had our second robot game in which we managed to double the score of our runs to 240 points! Just before our lunch break, we had the robot design, and it went extremely well. The judges were immensely impressed with our well-thought structure, attachment efficiency and were quite happy with our MicroPython code.

Overall, we had a splendid day and are thrilled to be going to internationals for the first time in Black Thunder's history - although we are not sure where, yet... Despite being successful, however, we still have a lot to work on in all areas and there is a lot of space for improvement if we want to be international champions."
Well done to the Robotics Team who have qualified for the international tournament.
Mrs C Thoseby (Teacher of Computer Science) commented:
"They really made us proud!"
A special thanks to Mr S Barraclough (Head of Computer Science), Mrs C Thoseby (Teacher of Computer Science) and Mr L Green (Teacher of Chemistry) for the effort they put in running the robotics club and escorting the students to Bristol.
Congratulations on the winning team, the Shapeshifters from Kendrick School who were crowned champions at the competition final on Saturday in Bristol.
For more information about this year's FIRST® LEGO® League competition, please visit First Lego League 2020
#ReadingSchoolFamily #ViaRedingensis #BuildingGoodMen #RSEnrichment #LEGO #UWE #RSComputerScience