Beat Goes On delivers Rhythms of the World Workshops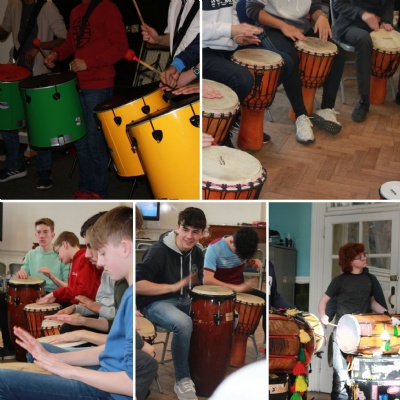 On Wednesday 26th February, Reading School welcomed rhythms from Africa, South America, Israel/Palestine, and India in musical workshops delivered by BeatGoesOnUK.
GCSE Music students attended workshops that explored rhythms from all four corners of the world with guest musicians and percussionists Oliver Tunmer, Yaron Engler, Johnny Kalsi, and Lucky Moyo.
Students were split into four groups to explore the different musical styles of each culture. Here's what Rishabh C, Stanley S, Andrei M, Henry W and Omar F (9W) had to say about the day:
African Body Percussion
Lucky Moyo is an arts practitioner and singer song-writer who has worked in well over 35 countries around the world sharing songs and dances from Southern Africa. Lucky has been commissioned to write songs for events for and performed to Nelson Mandela and Her Majesty Queen Elizabeth II:
"The first music culture we attended was the African one, which was led by a man called Lucky. This session was mostly body percussion taught by Lucky – who is from Zimbabwe. "We were all given djembe drums (African drums that are similar to the ones used in Israeli), plus an extra percussion instrument for us to play. We were then taught some simple rhythms to play on the drums. "We got to learn about his life in Africa and the culture there. It was a fun session and we learnt that there are many ways to make music, not just with instruments."
South American Samba Drumming
Oliver Tunmer is the founder and Director of BeatGoesOnUK that deliver workshops and CPD sessions throughout the UK. He is also a qualified secondary music teacher and delivers fun, engaging and memorable workshops. He is a former cast member of the hit show STOMP and its sister show, The Lost & Found Orchestra:
"Ollie taught us a more hip-hop rhythm, which was even more catchy. We performed the same way as with the Samba music, but with the Hip-Hop, and at times we would switch between the Hip-Hop and Samba. We left that session very energetic and singing the rhythms in our head, having learnt lots about South American music culture."
Israeli/Palestinian Music
Yaron Engler is a musician and educator who has been involved in the creation and production of artistic and educational projects across Europe, USA, and Asia and was a featured speaker at TEDx Jaffa. His performances have been described as charismatic, creatively wild, authentic and inspirational.
"This session wasn't as much learning about the culture and the history of their music, but more just drumming as a group and listening to the music. We were all given djembe drums (African drums that are similar to the ones used in Israeli), plus an extra percussion instrument for us to play. We were then taught some simple rhythms to play on the drums by Yaron. Then we just spent some time playing together and really listening to the music. Later we tried an exercise where we all came into a simple beat played by one person, and we could play anything that we thought complemented the music. It didn't have to be the drums either; people came in with shakers, cowbells, etc. This session was really interesting because it allowed us to think about rhythms that would complement each other rather than us being given rhythms to play. This gave us more freedom."
Indian Dhol Drumming
British Indian Dhol drum performer, Johnny Kalsi led the Indian drumming session. Johnny has 20 years' experience and leads his own group, The Dhol Foundation, founded in 1989 when several musicians asked him to be their teacher. The music group has had their music in Hollywood films such as Gangs of New York and Incredible Hulk. In 2015, Johnny was awarded a Fellowship Degree from Leeds College of Music.
"Our final session was the Indian drumming session with Johnny. He's from India and he brought some Indian drums (specifically from Punjabi) called Dhols. The Dhols were very fun to play. Near the end of the session, we asked him about music in India and his professional life. We left the session very satisfied and disappointed the Rhythms of the World programme was over."
Our GCSE Music students who participated in the workshops would like to thank Oliver Tunmer, Yaron Engler, Johnny Kalsi and Lucky Moyo for this opportunity:
"Overall, we all really enjoyed the Rhythms of the World. It taught us lots about music cultures from around the world. It also gave us a completely new perspective on drumming and percussion. We were very lucky to work with Lucky, Ollie, Yaron Engler and Johnny, four extremely helpful professionals. We are grateful for the experience."
On Tuesday 31st March, Reading School will host an International Cultural Festival as part of its 150th celebration; a celebration of culture through music, food, art, and performances.
To purchase tickets, click here: 150th Celebrations International Cultural Festival 2020
For more information, please email Piatrice at events@reading-school.co.uk.
#ViaRedingensis #ReadingSchoolFamily #RSEnrichment #BuildingGoodMen #RSMusic @BeatGoesOnUK @johnnykalsi @yaronengler @luMoyo @Ollietdrums