Limited Space Requires Limited Numbers: Our Book Week 2020 Dystopian Finale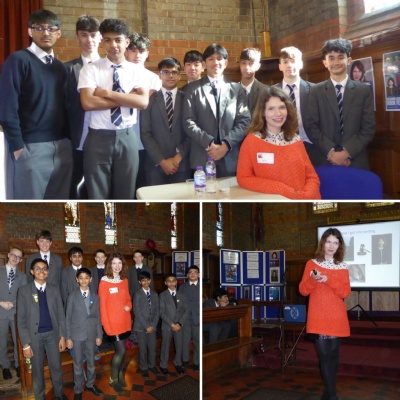 Our 7th annual Book Week concluded with award-winning author, Sarah Govett returning by popular demand to speak to all Year 10 students
Sarah is a University of Oxford graduate and author of the critically acclaimed dystopian trilogy, The Territory. The Guardian's children's book critic referred to this novel as "the 1984 of our time". It was also included in the Telegraph's Best YA Books of the Year and won the Trinity Schools Book Award 2018.
An audience of Year 10 students listened to Sarah discuss the dystopian genre, what it meant and how it related to an audience. She made many tips/advice about ways to get into writing, including useful skills, thinking about the message of what you write and looking for competitions to enter.
Andres B (10C) commented:
"I thought she was brilliant and her book idea was great! I look forward to seeing her Netflix show."
Jacob L (10L) said:
"I thought it was very good because it helped towards the dystopian part of our GCSE and it was interesting."
Rohan D (10S) commented:
"The talk was very informative and I learnt a lot about what it takes to write a book. She represented the steps of writing a book well and I thoroughly enjoyed it."
Sarah also attended an exclusive Q&A session with the LRC Book Club.
Zain M (10C) said:
"It was enlightening. She conveyed the career of an author and also give examples about her own life to help with her points."
Adil M (10C) also commented:
"I thought it was very informative as we got to learn a bit more about how an author approaches a book and how to write it. We also learnt a bit more about what inspires her and what dystopian novels tend to include."
A special thank you to Sarah and all our Book Week 2020 guests who return year after year; the ORA for sponsoring such an enriching week; and all the staff and pupils that supported the smooth running of all our events.
Interested in sponsoring Book Week 2021? Please contact the Society Office at events@reading-school.co.uk
#ReadingSchoolFamily #ViaRedingensis #BookWeek2020 @sarahgovett #OldRedingensiansAssociation