Reading School wins Magistrates' Court Mock Trial Regionals ​​​​​​​​​​​​​​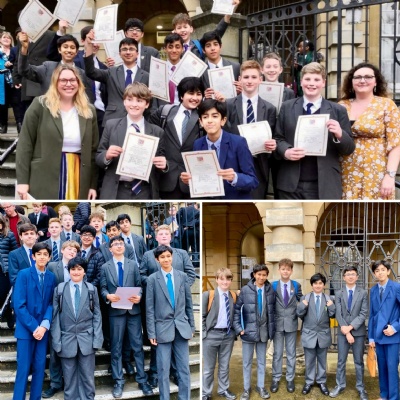 On Saturday 14th March, thirteen students acted as the prosecution lawyers, defence lawyers, witnesses, ushers, legal advisors and witnesses in a mock trial. Now in its 26th year, this event occurs across the UK to encourage students from non-fee-paying schools to improve their public speaking skills and to gain an insight into the legal system.
The competition is part of the SmartLaw programme which aims to help young people to understand the justice system and how it touches every aspect of life. Berkshire Community Foundation (BHF) in partnership with the High Sheriff was proud to help fund Reading's regional heat of the competition.
The students were assigned a case involving alleged graffiti during an environmental protest and the team included:
Prosecution lawyers Lucca K (9C) and Milan G (8E)
Defence lawyers Adam M (9S) and Rohan O (8E)
Defendant Harry A (9S)
Prosecution Witnesses Branson R (9S) and Josha G (9C)
Defence Witness Jamie R (8E)
Legal Advisor - Parth K (8E)
Usher - Armaan C (8W)
Magistrates - Oliver C (9E), Advay C (9S) and Mitansh N (8E)
Milan G (8E) explains why current students should consider being part of Reading school's mock trial team:
"The experience was fantastic! You develop essential skills that will benefit you no matter what field or career you enter. The skill to analyse and assimilate large amounts of information to what is important is vital for many careers, and the mock trial process helps to develop this. Confidence is also another trait that is developed by the process of the trial through advocacy skills.

The mock trial is very social, and you get to meet students from other houses and year groups, and learn from them. We also had the opportunity to meet and be assisted by a barrister, Jesse Cook. His personal story was inspiring, and his advice greatly benefited the team. On two occasions a Magistrate attended and gave us feedback.

The actual event was conducted at Reading Crown Court, in an actual courtroom and I was proud to be part of the winning team as Reading school came first place. Beyond reasonable doubt, it was a fantastic experience that I highly recommend."
Mitansh N (8E) commented:
"I found the Mock Trials an excellent way to get to see the key roles in the judicial system. We also had to dress smartly in suits and learn key courtroom language, such as to use 'my learned friend' when addressing the opposing lawyers. It has been an enjoyable experience working as a team across Year 8, and Year 9 learning new skills and building confidence. We all worked hard with the planning for the mock trial and I am glad that we won, inspiring some of us to possibly pursue a career in law!"
Armaan C (8W) added:
"The Mock Trial was a great experience, not only winning the competition, but the weekly training provided by Mrs Cash and Miss Pravda, as well as the workshop, kindly provided by Jesse Cook of Pump Court Chambers helped us fully prepare. We took on the roles of witnesses, magistrates, court reporters, court artists, ushers, and legal advisers. This helped to build my confidence and articulation, in addition to learning about positive body language required in a courtroom. It was a great team effort. Next stop…Regionals!"
Mrs A Cash (Teacher of Economics and organiser) said:
"It was fantastic to see how confident they were speaking in a large courtroom and their ability to think quickly on their feet. The team has spent 1.5 hours every week since Christmas preparing their case and practising their speeches. Their success was due to much hard work. The team is now through to the Regional Finals in May."
A special thank you to Mrs A Cash, Miss G Pravda​​​​​​ and Pump Court Chambers for their support of our students in the competition.
#ViaRedingensis #ReadingSchoolFamily #BuildingGoodMen #RSEnrichment @youngcitizensUK @PumpCourt