Salute to the NHS- 26 March 2020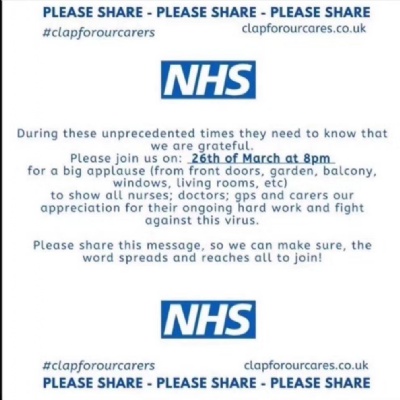 Join us (virtually) in the national salute set to take place to honour the NHS staff working hard through the coronavirus outbreak.
In a gesture of appreciation to frontline medical personnel, people across the nation have been invited to join a mass round of applause from their doorsteps, windows, and balconies tonight at 8pm.
Organisers of the "Clap For Carers" campaign - which started online - say it is being staged because "during these unprecedented times they NHS staff need to know we are grateful".
The Wembley Arch, the Principality Stadium, the Royal Albert Hall and Lincoln Cathedral are said to be among some of the landmarks which are set to be lit up in blue during the salute.
It is part of the #lightitblue campaign which has been organised by members of the events and entertainment industry as a way to say thank you.
Citizens on lockdown in Spain and Italy have already held similar displays of thanks for medical staff - applauding and cheering from balconies and windows.
Send us your gratitude message
Many of our parent and alumni community are employees of the NHS. To show them support at this difficult time, record a short 30-second video or photo of you thanking the NHS. Whether this is holding up a poster of thanks or playing music, get the family involved and please send your creative "gratitude" message to Communications@reading-school.co.uk via https://wetransfer.com/ of short video clips or jpegs for photos.
These will be collated as a storyboard and shared with the NHS and via social media as a thank you from the Reading School community.
We will be showing our support for our incredible @NHSuk workers for all they are doing through the #CoronaCrisis.
#ReadingSchoolFamily #ViaRedigensis #BuildingGoodMen #lightitblue #Community #CoronaCrisis #ClapForOurCarers @NHSuk