Reading School Community Support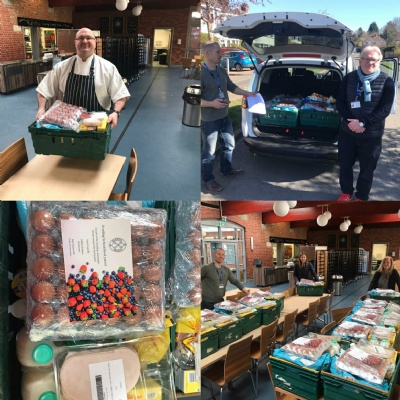 We are proud of how the Reading School community is working together in these difficult circumstances.
Some of the ways that Reading School has been supporting the community during the Covid-19 Crisis include:
Supporting children and families of key workers and vulnerable families
Families who are in self-isolation
Families who are struggling financially
Families of NHS staff and NHS staff based at the Royal Berkshire Hospital - nurses, cleaners and porters at RBH are doing the country proud and deserve everything we can give them.
We have been providing education and care at Reading School for these children as well as food parcels for those most affected by the crisis. Over the coming weeks, as situations escalate, the support to the NHS at RBH will be further enhanced.
We know some students, families, and alumni may be struggling financially at the moment, from things like unexpected expenses or loss of income, causing additional worries. The Government is doing everything it can to alleviate some of this pressure, however, the support from the Reading School community has been exceptional. We have already received many offers of support both financially and by way of volunteering.
Therefore, we are creating a process and criteria for applying for support from the Future Stories Support Fund in the way of goods or services, as this is the fund that most aligns with looking after those from underprivileged backgrounds. We would like to assure you that any financial donations remaining in this fund will be used for our Future Stories projects. Please visit the Future Stories page to see the outreach work that is done by Reading School staff and pupils at Future Stories.
The strength and desire of the Reading School community to help those that need it most does not go unnoticed and is making all the difference. We will get through this together. Look after each other. Stay at home as much as possible. Social distancing can save lives right now. Click here to read more about our community spirit.
Please see link to our Virgin Giving Money: Future Stories Support Fund
For those that wish to volunteer please sign up here: Volunteer support form - Covid Crisis
We will get through this. Look after each other. Stay at home as much as possible. Social distancing can save lives right now.
#ReadingSchoolFamily #ViaRedingensis #BuildingGoodMen #StayHomeStaySafe #BetterTogether #Community @LeagueHospital @NHSuk