Reading School and Cabooose & Co supporting the NHS Royal Berkshire Trust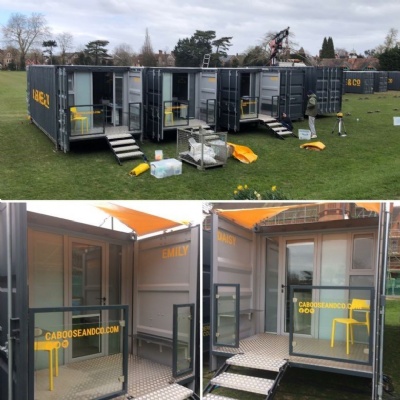 CabooseandCo kindly provided temporary accommodation for the 'NHS Village' located at Reading School, which will provide 40 accommodation units for NHS staff at a time of national crisis.
We are thankful for the community spirit that has been demonstrated over the last two weeks. This is including Caboose and Co, providing Caboose units to help in the fight to save lives.
Tom Critchley (MD of CabooseandCo) said:
"We are pleased to provide temporary accommodation for this NHS staff village, supporting the wider co-ordination efforts of Visions Group working on similar projects up and down the country. The team usually deploy Caboose units to world-class live experiences, music festivals and sporting events but are so proud that they are able to utilise the rooms to help out NHS heroes in such challenging times, providing a convenient and comfy place for staff to rest their heads after working in unprecedented circumstances."
Mr A M Robson (Headmaster) said:
"I am so proud that the whole Reading School community has been able to play a part in supporting the incredible work of the Royal Berkshire Hospital during these challenging times. Over the coming weeks, our school grounds will become a second home to the NHS heroes who are selflessly serving the community and ensuring that lives are saved."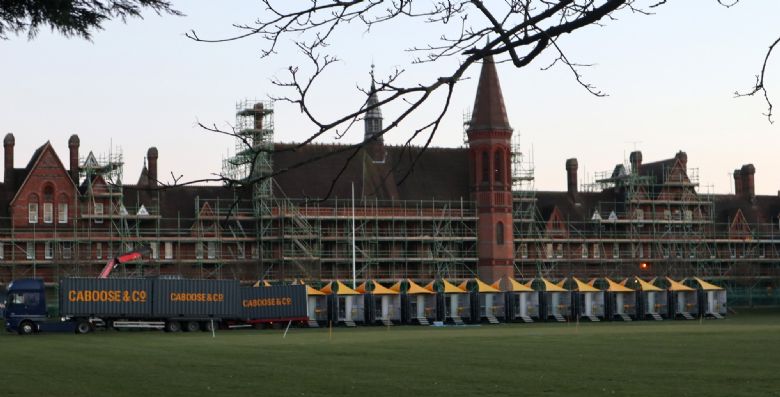 We have been neighbours of the RBH since the school moved to the Erleigh Road site in 1870, and naturally, we would want to support the selfless work of the RBH, which represents the same values as Reading School of Excellence, Integrity, Leadership and Community.
Thank you to the Reading School family for your spirit of compassion and community and our staff for their resilience and perseverance.
Thank you RBH and all NHS critical workers for your care so that lives are saved.
We have launched our Future Stories Support Fund and I am very grateful to those that have generously donated or signed up to volunteer.
Please give as little or as much as you can, all donations go some way to supporting those that most need it during this crisis and beyond.
To donate click the link to Virgin Giving Money: Future Stories Support Fund
To volunteer click the form: Volunteer support form - Covid Crisis
We will get through this. Look after each other. Stay home. Social distancing saves lives.
#ReadingSchoolFamily #ViaRedingensis #BuildingGoodMen #StayHomeStaySafe #BetterTogether #Community @RBNHSFT @CEO_RoyalBerks @Toriatwo @berkshire_live @rdgchronicle @CabooseandCo