Reading School Students among the top in National Computing Challenge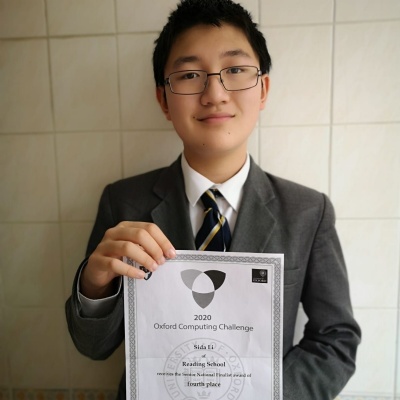 We are extremely proud of Senior National Finalist Sida L (10W) and Luke H (9W) who came 4th and 8th place respectively in the intermediate category of the TCS Oxford Computing Challenge (TCSOCC) national finals.
The TCS Oxford Computing Challenge is an invitation challenge for students in the UK aiming to help talented computational thinkers develop their skills by asking them to solve tasks with programmed solutions. This competition is based on computational thinking puzzles which is a key part of the GCSE Computer Science course.
Nicholas L (9W) was also among the top 10% participants of the UK Bebras Computational Thinking Challenge and was invited to participate in the TSCOCC at Hertford College, University of Oxford. He also performed extremely well in the competition.
Sida L (10W) reported:
"The TCSOCC competition was one of the hardest yet most exhilarating challenges I've ever faced. With only an hour for each round, it became really easy to stress over individual programming tasks and I found myself spending way too much time debugging. Yet throughout the three rounds, I was never bored, as each task was unique and made me wrack my brain in a different way.

One question in the finals was even a smaller version of the Travelling Salesman Problem, and the last one used a miniature stimulation of people migrating during a virus outbreak! In the end, I feel like I could've done a bit better, but I'm still proud of my score, and I look forward to next year's questions."
Mr Stephen Ling-Winston (Head of Computer Science) commented:
"It is so amazing to see the students achieve so much and to keep applying themselves to all the challenges they are set, never waiving in their desire to succeed."
Next year's challenge takes place from 2nd - 13th November 2020. If you are interested in participating please go to UK Bebras Challenge for details.
#ReadingSchoolFamily #ViaRedingnesis #BuildingGoodMen #Excellence #RSComputerScience #computationalthinking @bebrasuk @tcsocc @UniofOxford