RS Easter Challenges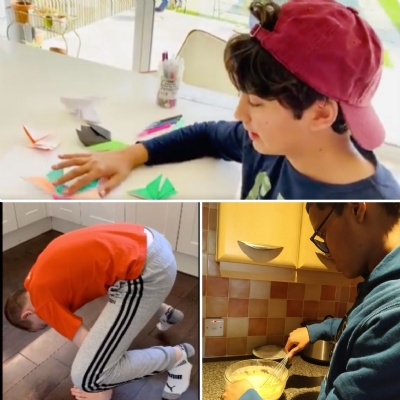 After several challenging but successful weeks of transitioning to online learning, the Easter holidays afforded Reading School boys a well-deserved break from academic studies (and their computer screens!).
With holidays cancelled and respecting the need to stay at home, boredom and cabin fever were on the horizon, so Reading School's unique Floreat Programme put together an Easter Enrichment Programme, designed to give the students a bit of fun that complemented and went beyond their usual 'education'.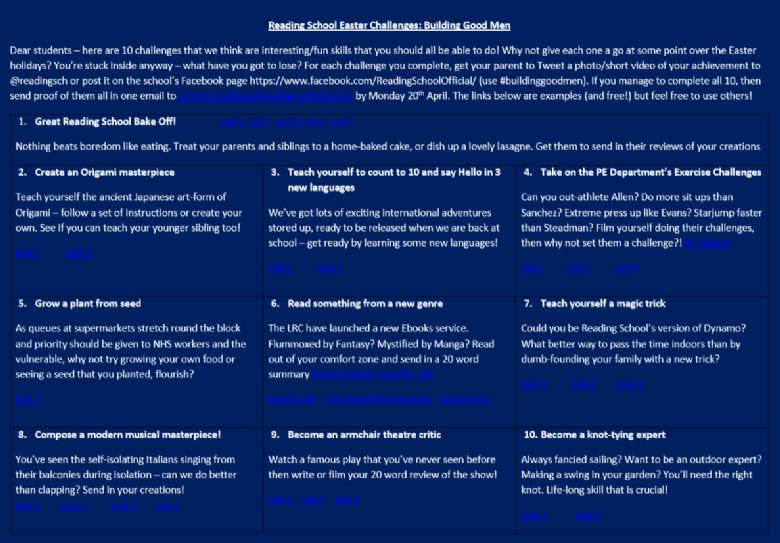 The programme was met with enthusiasm as many students rose to the challenge, completing activities including baking, origami, speaking languages and knot tying. They submitted their achievements online using #RSEasterChallenge.
Big congratulations in particular to Oliver C (9E) for being the first student to complete all 10 challenges, and Rishav R (10E) and Yadveer G (7E) for demonstrating first class creativity during the Easter holidays.
To see Rishav and Yadveer complete their Easter challenges, click here: RS Easter Challenges
To see Oliver C (9E) complete all 10 challenges (plus a bonus challenge!) click here: 10 Easter Challenges
#ViaRedingensis #ReadingSchoolFamily #BuildingGoodMen #RSEasterChallenge @FloreatReading @readingsch