Raspberry Pi Competition Finalist Award Winners 2020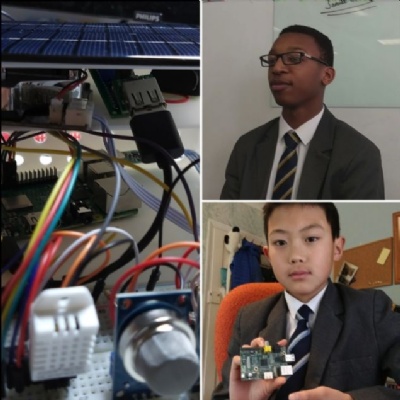 Congratulations to Samuel A (9W) and Ryan L (8L) on winning the Raspberry Pi finalist award with their pollution monitoring IoT device.
Mr S Ling-Winston (Head of Computer Science) said:
"The students worked completely independently on this project and their commitment to turning up during many lunchtimes, as well as working in their free time has reaped the reward of making it into the finals. The feedback from the first round of judging was that they had a great submission with lots of detail in pictures, diagrams and video demos. It is a complete working prototype, with several sensors and a case (which they 3D printed) for when it is deployed. All the source code has been documented and the team's knowledge and understanding were evident in their video presentations."
As a result of their effort, they have been awarded a £250 prize fund to purchase products for the school's Computer Science department.
Mr A M Robson (Headmaster) said:
"Congratulations to Ryan and Samuel! Their success is a fine example of what our students can achieve through hard work, commitment and determination. Both Ryan and Samuel put together their environmental air-sampling entry, with lunchtime attendance and working from home. This is exceptional and we are very proud."
To see how Ryan and Samuel came up with the concept for their project, click here: Raspberry Pi Entry Video
Reading School understands that our pupils have specific areas of interest and we are here to support and enhance innovation and creativity to make sure every pupil reaches their full potential. Employment in tomorrow's world demands a different way of thinking. Entrepreneurs and digital start-ups alike are changing the world of business as we know it. It is important to recognise this as an opportunity that will help you to succeed professionally and give you the power to innovate and effect change. Placing you at the forefront of exciting and fast-growing industries.
Students can take part in the remote Clubs and Societies launched on Monday. Click the link to see dates and times: Clubs and Societies.
#ReadingSchoolFamily #ViaRedingnesis #BuildingGoodMen #Excellence #RSComputerScience @PA_RaspberryPi