App developed by Old Redingensians breaks 1 million downloads worldwide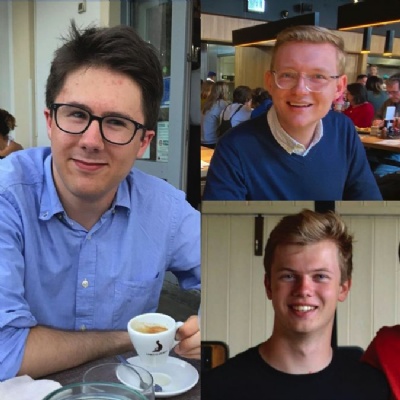 Cameron graduated from the University of Warwick and is starting work at the management consultant firm Newton Europe. Tom graduated from the University of Oxford and is an Economist in the Civil Service. Both earned a degree in Philosophy, Politics, and Economics (PPE). Robin is currently a fourth-year Earth Sciences student at the University of Oxford.
The trio, who met whilst students at Reading School, co-founded a limited liability partnership, Coding Corner LLP in 2016.
Their most successful app to date is iFont, which helps people find and installs fonts on their iPhone and iPad. iFont has been in development since 2014 when Cameron and Tom received £100 from an Old Redingensians Enterprise award. iFont now has over 1 million downloads and users in over 150 countries.
iFont has been mentioned in publications such as The New York Times, Cult of Mac, MakeUseOf, PCMag, and 9to5Mac. It averages 4.5/5 from over 3,000 reviews.
As well as working on iFont, they have seen success in other applications they have developed. In 2018, they worked with paramedics and other first responders in the South Central Ambulance Service to create NEWS2 Calculator for iOS and Android, which allows the quick and accurate calculation of National Early Warning Score 2 (used to assess the risk of sepsis in acutely ill patients). This is now used by thousands of healthcare professionals across the UK.
Cameron Leask (2009-2016) commented:
"A massive thanks to the ORA, as without the initial grant in 2014 these projects may have never got off the ground. Although software development is still only part-time for all of us, the experience has taught us an unimaginable amount."
Mr A M Robson commented:
"Many congratulations to Cameron, Tom, and Robin on their recent success. It is encouraging to hear that their idea was born from the Old Redingensians Association's Enterprise Award of £100, provided to those students who show promising entrepreneurial ideas. We look forward to hearing from OR's who have gone on to have interesting and successful careers which inspire our current students to be innovative and considering careers they had not previously thought of."
We are always delighted to hear from Reading School alumni. By sharing your story, you can enhance the aspirations of students who wish to follow your professional path, inspiring them to succeed.
If you would like to share your story, please contact Jas or Piatrice in the Society Office at alumni@reading-school.co.uk. Particular interest is in medicine, scientific research, finance industries, computer science, engineering, languages, and the creative arts.
#ViaRedingensis #BuildingGoodMen #ReadingSchoolFamily #OldRedingensians #RSKeepInTouch @CodingCornerLLP